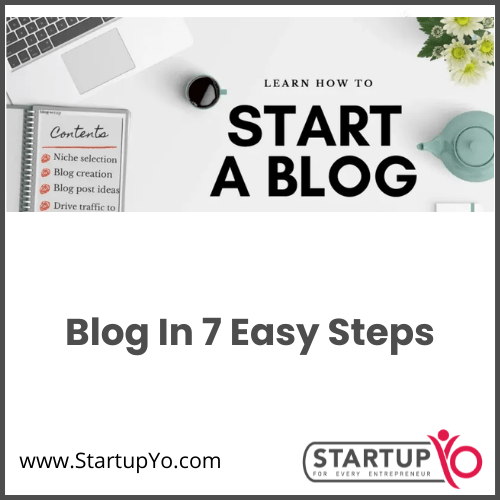 How to Start a Blog
Apart from Social media platforms, the next big thing that is booming is Blogs. Blog writing has not just granted people with information but also an alternative source of income for the platform owner. Through blogs, we can share our views, write short stories, write articles about the current scenario, and so on. For most people, Blogging is just for fun or to fulfil their passion, but for a majority of them, it is a source through which they can earn money and aware people by offering specific and productive content.
What is a Blog?
According to its literal definition, 'A blog is a discussion or informational website published on the World Wide Web consisting of discrete, often informal diary-style text entries and posts are typically displayed in reverse chronological order, so that the most recent post appears first, at the top of the web page.' A website or a blog would also be displayed on the page as per the views it receives and as per the keywords it uses.
Why you should start a Blog
Before reading about how to start a Blog step-by-step let us first understand the reasons why one should start writing blogs right away or what are the benefits of writing a blog and maintaining the blogging experience. You may have mentally prepared yourself to start writing a blog but it is also important for you to have a 'WHY' for writing blogs.
Blogging fun. Content creation, online streaming, video blog. Young girl making selfie for social network, sharing feedback, self promotion strategy Vector isolated concept metaphor illustration
Making Money



This would always be the number one reason behind starting a blog as Money is not everything but it is Something! You can use blogging as an alternative source of income and may be at a future date as a passive income. Once your website or blog starts to gain the attention of many viewers, your website would be monetized and you can earn from writing blogs.
Sharing your views
A Blog is a great medium through which you can tell your own story or share your views to thousands of people on a particular subject. The internet is comprised of truth and lies on every subject, through your blog you can reach an audience and deliver the real facts about things and make them understand your views about various topics.
Engagement and Networking
A blog can help you create some engagement with your audience through comments and views, and thus that in turn helps you with Networking. You can come in contact with various people who are related to your field and build rapport and connection with them. This may help you in the future with some other opportunity or with Blogging itself.
How to Start a Blog
Let us get to the point directly. After understanding a few of the many reasons why you should start a blog, the article further would explain how to start a Blog easily.
Select your Genre
Genre in simple words means to select your type, which field you would love to write into? Which one interests you the most? In Blogging, you can write articles on different topics, however, that would break your consistency and your audience would be a mix. Hence on professional terms your genre or your Niche should be fixed, the first step is to decide on your Type.
A Platform for Blogging
In order to post your blogs, you first need to choose a platform that is created specifically for blogging. WordPress, Tumblr, Blogger, Medium, etc. are a few of the platforms that are used for Blogging. It would be recommended to use WordPress as it is the most common choice and a platform that offers various themes.
Domain Name and Web Hosting



So we have added two steps in one, as selecting a domain name and then selecting a web hosting for your blog goes together. A Domain name is the name you decide for your Blog, it is the name that your viewers would see or search while visiting your blog. As for web hosting, you need a host for your blog that would ensure that your website or blog is available to maximum readers at any time zone, and hence your web host should be a reputed one. Many go for the web hosting service provided by Bluehost or GoDaddy.
You may also like :
How to Become a Social Media Consultant
Starting your Blog
This point covers how to link your Web Hosting with WordPress, payment, and so on. Once you have selected your Web Host and downloaded WordPress software, you can select your Hosting plan that is provided by your Web Host. The Next step would be to create your account, fill in the necessary details, and then lastly you can connect with WordPress and start optimizing and creating your blog easily.
Themes and Designs
You have many choices available for selecting the themes and designs for your blog, especially if you have selected WordPress as your blogging platform. You can apply all the suitable themes and designs for your Blog and final the one which is to your liking. Theme and designs should be simple and attractive.
Customize your Blog
By customization, it means adding all the buttons on your Blog page that are necessary, such as About us, Contact, Homepage, and so on. The more you customize your blog, the easier it becomes for your readers to surf through your blog and read other articles that are written by you.
Write and Publish
All things are in motion, by far all the steps require to set up your blog is done and you can start writing your first post on the concerned topic and hit on Publish. You should also learn and look out for SEO; they help you to rank your blog better and on the first page of the google result. To monetize your blog and to get more traffic you would have to learn about SEO.
Conclusion
Writing a blog can help you to make an alternative source of income, share your views with people and connect with them. The steps required to start a Blog are Selecting your genre, selecting a platform for blogging, selecting a domain name and Web Hosting, starting your Blog, selecting the necessary themes and designs, customizing your blog, and Writing your first blog, and clicking on Publish!



Subscribe To Our Newsletter
Get updates and learn from the best