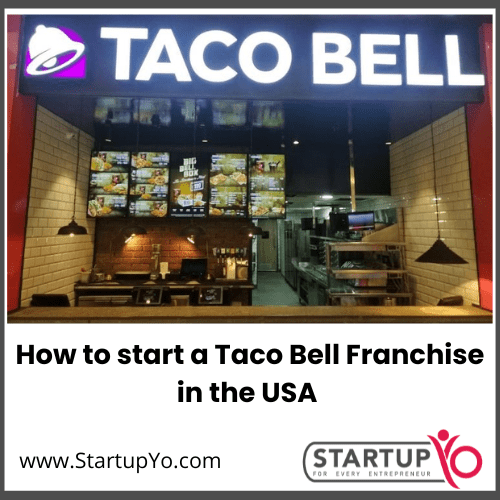 How to start a Taco Bell Franchise in the USA 
How to start a Taco Bell Franchise in the USA
If you are considering starting a franchise, you should seriously think about partnering with Taco Bell. Taco Bell franchise opportunities are numerous and it is one of the prominent restaurants and a brand with a fifty-year-old legacy. Working with Taco Bell franchise also provides complete assistance from their peer network of more than 350 restaurants.
Consider that a Taco Bell franchise fits your company goals before applying for the same. The name of Taco Bell Franchise owners are YUM! Brands, Inc. is the corporate parent of Taco Bell. 
The franchisor bestows non-exclusive rights to other franchisees to operate a number of quick-service restaurants (QSRs) and consumer feeding places giving various items at a reasonable price, with top-notch quality food of Mexican cuisine for drive-thru or on-premises eating by the public by utilizing the brand name of Taco Bell. 
Taco Bell Franchise: A brief overview!
| | |
| --- | --- |
| Year of launch  | 1962 |
| Franchise year  | 1964 |
| Headquarters  | Irvine, California  |
| Franchise stores  | 5,886 |
| Investment range | $5,25,00 to $2,622,400 |
Types of Taco Bell Franchises in the USA:
Traditional units
Free-standing, permanent structures of varying sizes and layouts serve the entire Taco Bell menu. A culinary place where food is made and then assembled. Moreover, there is a counter wherein people place orders and pay for them. 
Taco Bell Express
Less opulent establishments with a restricted range of dishes from the entire Taco Bell menu. Custom Facades include stand-alone Taco Bell units built on-site within more prominent buildings and permanently built installations of various designs that take advantage of available space in various settings.
In-Lines
Locations or places with or without a drive-through also have the other qualities listed above. End-Caps are in-line units that have a drive-through.
Training Overview
All the new franchisees should take the "Starting Bell," which is a brand immersion course for the newcomers operating at its restaurant place in Irvine, California. This course is independent of and in addition to the compulsory restaurant training. It is a three-day school in which new franchisees will learn the tools and techniques necessary to become successful Taco Bell franchisees, among other things.
Furthermore, the franchisor mandates that franchisees and one management satisfactorily finish its training program. The management training program, available on an as-needed basis, lasts at least seven weeks. 
The training period can be extended up to eight weeks, which depends on the geographical and size of the location of the franchisee's company. If the restaurant or organization is multi-brand, extra time is required for the other brand's training. Web-based training and on-the-job and classroom training are all part of the training.
Territory Granted: 
According to the Franchise Agreement, it does not give franchisees any territorial prevention or exclusive services. The rights of the franchisee, according to the Franchise Agreement, are stated as non-exclusive. 
Obligations and restrictions: 
Franchisees must provide their time, efforts, and constant personal attention to Taco Bell's day-to-day activities. For example, suppose the franchisor has authorised franchisees to appoint an employee as the unit's supervisor. In that case, that person must first finish his training program and commit his full time, efforts, and constant personal attention to the day-to-day activities. 
Taco Bell Franchise Cost
Taco Bell charges a franchise fee of around $20,000 and requires a total initial investment of $525,100 to $2,622,400.
Taco Bell Franchise Net worth requirement is  $525,100 – $2,622,400 
Initial investments: $525,100 to $2,622,400 

$750,000 in liquid cash is required
Initial Investment Breakdown
| | | |
| --- | --- | --- |
| Fee Name | Low | High |
| Initial Investment fee | $25,000 | $45,000 |
| Optional real estate services | $0 | $37,175 |
| Application and background fee | $350 | $600 |
| Real Property | $20,000 | $1,400,000 |
| Security deposits and permits | $74,000 | $74,000 |
| Opening expense | $5000 | $5000 |
| Initial Inventory | $7000 | $10,000 |
| Building or site construction | 177,000 | 9,00,000 |
| POS/Equipment | $1,50,000 | $3,20,000 |
Taco Bell Corp. is the nation's most prominent Mexican-style quick service restaurant or QSR brand and owned by Yum! Brands, Inc. (NYSE: YUM). Taco Bell delivers customizable tacos and burritos, among other tempting options, from morning to the end of the day or late at night. Moreover, it is the very first QSR to provide menu items certified by American Vegetarian Association (AVA).
Franchise of Taco Bell and its almost 7,000 restaurants around the country and its mobile, desktop, and delivery ordering capabilities proudly serve over 42 million consumers each week. Taco Bell owns more than 250 restaurants worldwide, with potential plans to build another 2,000 in the coming decade. Taco Bell was awarded one of the Top 10 Most developed Companies in the World by Fast Company.
Taco Bell is ranked number eight in the Franchise 500!
The process to set up Taco Bell Franchise
First, decide if opening up a Franchise is correct for you
Although a Taco Bell franchise might be an excellent investment for individuals, it is critical that you carefully analyze all aspects of this opportunity before applying. Learning about the Taco Bell Franchise requirements like rules, costs, investments, and other duties can assist you in making the best decision.
Royalties will take up 5.5% of the monthly earnings.
    2.Taco Bell intends to open 2,000 restaurants by 2023.
Arrange and look for financing options: 
Before you pursue opening a Taco Bell franchise look at the Taco Bell franchise profit making opportunities. You must arrange to fund and be informed of the associated fees. Properly arranging your funding might aid in the application procedure and the realization of your Taco Bell franchise.
    1.Taco Bell does not offer credit.
   2.You can apply for finance in collaboration with partners.
   3.Some third-party financing sources may be rejected.
   4.Some banks have direct relationships with Taco Bell.
The cost of establishing a conventional Taco Bell franchise ranges from $1,177,300 to $2,620,600.
Meet the required qualifications: 
Before you apply and begin opening your Taco Bell franchise, make sure you meet the qualifications. These will be required for you to properly apply for your franchise.
You must have past restaurant management experience or have a partner that does. 
    2.A net wealth of at least $1.5 million is required.
    3.A minimum of $750,000 in liquid assets is required.
    4.Should have previous experience staffing, managing, and growing a franchise or business.
After getting accepted
Prepare for the training program: 
If you are approved to launch a Taco Bell franchise, you and any partners or prospective future managers must go through the Taco Bell training program. Training lasts six to eight weeks, and all fees, including travel and housing, are your responsibility. The Taco Bell training program aims at the three essential areas listed below:
Making important contacts.

Create your restaurant.

Putting together your team.
Get ready to meet the obligations: 
Opening a Taco Bell franchise will require you to run the restaurant according to the corporation's procedures and processes. Specific personal arrangements may also be required of the individual or individuals launching the franchise. Examine some of the responsibilities that you might expect:
Only sell the food, beverages, or other products listed in your franchise manual.
    2.You may be required to live a specific distance away from your franchise.
    3.The original franchisee may delegate their responsibilities to a supervisor if that supervisor  has undergone the relevant training.
Apply for the Franchise
Applying: 
You can apply after reviewing all the essential material and determining that you meet all the qualifications and conditions. The formal beginning of starting your Taco Bell franchise will be applying for a franchise.
Apply online at

https://www.tacobellfranchise.com/
    2.The application form is straightforward and quick to complete.
Decide on managing the franchise: 
Taco Bell permits the franchise to be managed by either the qualified initial financier or a thoroughly trained and qualified supervisor. Consider which option is better for you and your future ambitions. 
Anyone who replaces the original financier must go through training and meet the standards.
    2.Taco Bell must approve this choice before it may be implemented.
Conclusion
The worldwide notoriety it has achieved distinguishes it as a unique brand among many others in similar lines of business. This distinguishes the brand from the swarm of fast-food restaurants. This brand recognition serves as a unique selling point, and the food items sell for themselves due to the brand name's popularity.