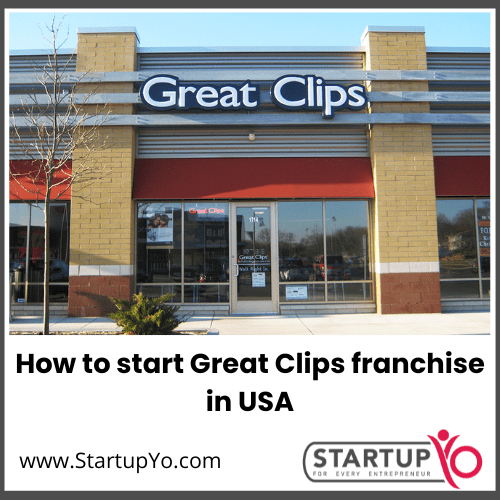 How to start great clips franchise in USA
Complete guide  to start Great Clips Franchise in USA
Over view
Great Clips is a personal hair care business in America. It is one of the largest hair salon franchises with its network across the United States and Canada. The module of Great Clips is different from other salons, they offer a no-frills hair maintenance service focusing mostly on hair-cuts, hairstyling, and shampooing. Their goal is to provide the service that they do best.  They have advanced technology and wonderful techniques for Franchisees. Their salon management is great and they provide the best customer service. The brand has over 4400 footprints across North America and in other parts of the world, its headquarters is located in Minneapolis, Minnesota.
Steve Lemmon and David Rubenzer founded this hair salon business in 1982 and started franchising in 1983. They are available seven days a week and also provide service during nights and weekends. They offer a number of services for men, women and children. They also have their own professional haircare products under the brand name "Solutions". Apart from walk-in, their website and mobile app fixes appointment scheduling for its customers.
Great Clips Franchise Benefits
In order to know the franchise benefits provided by Great Clips you need to know that their support network is outstanding. They provide assistance on all levels like during site selection, build outs, at the time of operating marketing strategies and on other levels.
There are some other support options available from Great Clips:
8 hours of On-The-Job training.
86 hours of, Classroom training.
Additional training will be provided at the local training center.
The option of absent ownership is allowed.
The range of employees required to run is 8-10
Apart from this we can confirm their benefits from below mentioned points:
its recession resilient

aspect. Regarding economic conditions, either strong or weak, at the end everyone needs a haircut.
Its

technology

is matchless and first class, they have come up with the ways and tools to make it easy for its customers to get the same finish in every location.
They have the format of

simple operations,

as a manager-run business there is no need for the owners to be in the salon every time. The manager keeps an eye on each detail in the salon. 
They have a

strong marketing

system, the best satisfaction for the franchisees is that they have knots with billion dollar brands. They follow great marketing strategies like digital marketing, partner promotion, broadcast sports and much more.
Great Clips Franchise Requirements
The expected financial requirements for the Great Clips Franchise is based on its liquid capital, net worth and total investment. If you are interested in starting up a Great Clips franchise you need to have a liquid capital of $50,000, Net worth of $300,000 and a total investment of $137,000 – $259,000. Apart from this there are other required investments and fees.
| | |
| --- | --- |
| Liquid Capital  | $50,000 |
| Net Worth  | $300,000 |
| Total Investment  | $137,000 – $259,000 |
Great Clips Franchise Opportunities
Great Clips Franchise Opportunities is for ideal candidates, qualified youths and for involved and engaged partners. The brand is always looking for an opportunity to tie knots with such human characters who will be focused on growing the business. Those perfect partners who have the desire to grow into multiple units.
The brand is focused and is accepting Franchisees in the American and in the rest of the world.
The business is manager-run, so any ongoing owner has the opportunity to take it as a second full time job and can shake hands with Great Clips.
The brand is itself the driver of their positive results, so you have the opportunity to run a business without any fear.
Great Clips Franchise Cost
In order to run a Great Clips Franchise, the total investment that is necessary ranges from $178,400 – $376,900. This includes a single franchise agreement and three stat agreement.
For a single Franchise agreement you need to pay $60,100 – $80,000.
For a three star or three franchise agreement you pay $75,100 – $95000.
Name of Fee

Low 

High

Initial Franchise Fee

$20,000

$20,000

Initial Advertising 

$5,000

$5,000

Travel and living expenses 

$1,500

$2,500

Agricultural Fees

$100

$6,000

Leasehold improvements, including Labor.

$65,000

$160,000

Rent & Security deposits.

$1,000

$10,000

Fixtures, Signage and furnishings, including computer.

$40,000

$55,000

Freight 

$4,000

$7,000

Sales Tax on fixtures,signage and furnishings.

$0

$3,000

Operating inventory and suppliers.

$4,700

$6,400

Grand Opening Advertising 

$20,000

$25,000

Insurance 

$2,100

$3,000

Lease liability Fee and lease Review Fee.

$0

$4,000

Additional Funds (6-12) months

$15,000

$55,000

Estimated Total

 

$178,400
$376,900
Great Clips Franchise Profit
There are many factors on which the franchise revenue depends, as does its profit. Factors such as location point, costs of labor, commercial lease rates and much more.
As we know it's a billion dollar industry, as per Great Clips reports,
Its global sales during 2021 has reached $1,364,000,000. 
In 2022 the brand chain did more than $ 1 billion in sales.
So the average unit revenue was $306,724 annually.
There is no official evidence or record from which we can confirm how much profit Great Clips makes. In gross revenue per year per location the franchise makes approximately $320,000 meaning some locations earn more and some less. The Owner of a franchise can expect a 10% Profit margin from gross sales. As per year per location, a franchise owner can expect to make $32,000 in salary.
Great Clips Franchise Application
You need to complete the online form provided by Great Clips for franchisees. You need to fill the Basis information required, next they will ask for Employment, further they want to confirm your Other Information as well, after this step you need to fill Assets, then it takes you down to Liabilities, after this you will find Monthly Expenses, then Other Financials option pops up, they also ask General Questions and Wrap Up Questions at the end they end the procedure on Referral option. Submit it after completing your consent to receive Great Clips  info emails.
For more details visit their Official Website: http://www.greatclipsfranchise.com 
Conclusion
Great Clips Franchise provides opportunities for ideal candidates, qualified youths and for involved and engaged partners. The brand is always in need of partners who focus on growing business. Their way of supporting their franchisees is unique, as a manager-run business, so there's no need for owners to remain updated 24/7. Their technology and marketing strategies are well versatile that leads to increase in its profit margin. They are also engaged in many social work activities in order to develop and strengthen its relationship with communities.
As a billion dollar industry, the profit is guaranteed, but the haircare industry is highly developed and the investors must remain aware that they are going to face strong rivalries. The consumers are the same so this may impact its profit margin which will be reflected in owners profit. So the investors need to go for multi-unit ownership in order to make more profit. Its footprints are growing and are engaging much human power with this highly developed business. Great Clips Franchise in the USA can be a turning point for involved and engaged investors who can make business much profitable and worthy investing.
Frequently Asked Questions(FAQ's)