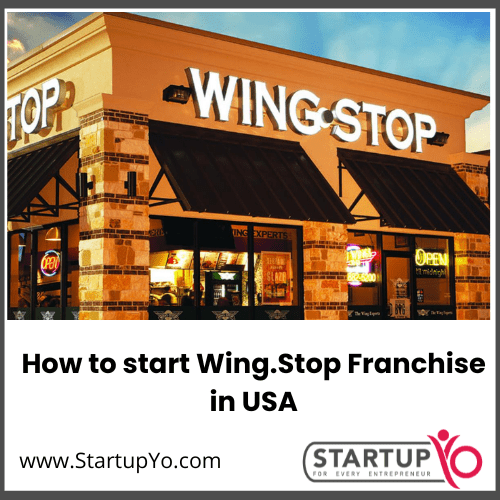 How to start Wing.Stop Franchise in USA
Complete guide to start Wing.Stop Franchise in USA
Over view
WingStop Franchise is an American multinational fast-food chain that focuses on serving the ultimate buffalo-style chicken wings with dips, salads, and drinks. WingStop Franchise offers a variety of chicken wings like boneless wings, tossed chicken wings, hand-sauced and other food and beverage products. The specialty of the business is to provide quality products with superior service at an exceptional value. They focus on serving the best quality chicken wings and finding the best talent to extend their burning desire to build a successful business. This American based buffalo-style chicken franchise company with 1,400 restaurants  has offered freshest and high quality chicken wings for years.
The story of "WingStop Franchise " started in 1994 in Garland, TX by Anthony Swad and started franchising in 1997. After selling its billionth chicken wing in 2002 since then the chain of restaurants has grown to over 1,400. For national delivery it partnered with Door dash in 2015.  Its network is not only in the US but also in many countries like Mexico, Australia, Saudi Arabia, Indonesia, France and its headquarters is located in Addison, Texas. 
WingStop Franchise Benefits
WingStop Franchise provides many benefits to their franchisees. They benefit your business in many ways, they always strive to make their locations successful.
WingStop Franchise provides Real estate, setting up operations, training, and managing construction. Their franchise family support never stops, WingStop franchise makers keep working on new ways and new ideas to support you.
In their franchisees module they are providing benefits like site
Training & support

, they train brand partners and provide support from day one. They provide hand-on training to the franchisee and its general manager to run a store as if it is their own.
Real Estate

: its Real Estate team helps in finding a perfect location point.
Design & Construction

, its Design and construction idea helps in framing a catchy look of the location.
Daily Support

, they support their wings from day one, and keep them updated every time.
WingStop Franchise Requirements
In order to open WingStop Franchise you need to keep certain requirements in consideration. The franchisee should have some business experience and a business plan. The brand partner should have a good credit history and a minimum net worth of $1,200,000 of which $600,000 must be liquid assets. There is also a 3 store minimum requirement for development. Higher market initial investment should also be kept into consideration because some markets require higher initial investment. 
WingStop Franchise Opportunities
With years of experience, the WingStop Franchise has provided thousands of owners with the best opportunity that will fit their personality and profession. From new to experienced owners, high market range locations to low market range locations, every franchise owner has experienced the opportunities of WingStop.
WingStop offers Single-unit operators and Multi-unit developers opportunities in U.S markets.
Single-unit operators

should have a minimum net worth of $250,000 of which $100,000 must be liquid capital.
Multi-unit developers

must have development experience and liquidity totaling $100,000 per store. 
WingStop Franchise Cost
It is estimated that the beginning operation of WingStop Franchise ranges from $315,310 to $948,080. This range is a part of the upfront costs including initial investment.
Type of Expenditure 

Amount 

Payment made to 

Initial Fees

Development Fee

Franchise Fee

$10,000

$20,000

Us

Security Deposit 

$0 – $10,000

Landlord/ Utilities insurance Companies 

Architectural/ Engineering Fees

$5,800 – $35,500

Architectural Professional 

Professional Fees

$2,500 – $7,500

Your attorney, accountant, and other Professionals 

Leasehold improvements

$155,000 – $570,000

General Contractor 

Business & Operating permits

$4,500 – $8,500

Licensing Authorities 

Decor Package

$6,300 – $ 32,480

Approved independent suppliers

Furniture, Fixtures, Audio/ Visual system, Equipment and small-wares

$55,850 – $138,100

Approved independent suppliers 

Point-of-Sale, Back Office, Software & Hardware & Related items.

$12,000 – $13,000

Suppliers

Signs

$3,360 – $32,000

Approved independent suppliers 

Opening Inventory

$10,000 – $16,000

Approved independent suppliers 

Opening Publicity & Promotions

$5,000 – $15,000

Independent suppliers 

Additional Funds -3 months

$25,000 – $40,000

Various 

Total ( excluding real estate purchase & lease costs)

$315,310 – $948,080
 
WingStop Franchise Profit
WingStop is a profitable business of chicken wings and other food and beverage products. It's estimated that in the year 2021 the company was able to make an earning of $134 million. 
In a WingStop Franchise the investment return is profitable. In 2021 WingStop Median Franchise sales ranged $1,485,793.
WingStop (Franchisor) income 
| | |
| --- | --- |
|   |   |
| Revenue: |   |
| Royalty revenue | $123,587 |
| Franchise Fee | 4020 |
| Other revenues | 8,263 |
| Total revenue | 135,870 |
| Costs and expenses: |   |
| Selling, general and administrative Expenses  | 612 |
| Amortization  | 1,298 |
| Total costs and expenses  | 686 |
| Income before taxes  | 135,184 |
| Income tax expense  | 1,147 |
| Net income  | $134,037 |
WingStop Franchise Application
In order to apply for Popeyes Franchise note that it is being offered to the United States residents and to the ones with at least$100,000 to invest. The application process is completely online, fill the details in the form provided by WingStop Franchise.
Step by step approval process:
Request for Consideration Submitted. 
Contacted by Franchise Development Team.
WingStop request for financial documents

completed and evaluated.
Franchise Disclosure Document issued.
Development Agreement issued and executed.
In addition to this you can also reach WingStop https://www.wingstop.com 
Conclusion
WingStop Franchise provides opportunities for new talent and are always looking for interested candidates in order to take their mission ahead. Their supportive way and remaining updated with its franchisees, motivates people to invest in their business. It's a one time offer for you ,so choose in the best way possible. Its Locations are consistently growing and satisfying the food and beverage lovers. Their unique aviation theme enhances the beauty of its locations and are quite appealing for consumers. 
WingStop Franchise is accessible by submitting an application online, after approval you will join the Discovery Day which will help you in getting an idea of whether or not you want to own its Franchise. Its net profit is growing continuously and its Franchise model ensures the success of every location. They have a strong annual returns and are giving tough competition to their competitors. Therefore starting with the WingStop Franchise in the USA is a big commitment, be dedicated and give every effort to make your business profitable and worth investing in.
Frequently Asked Questions(FAQ's)