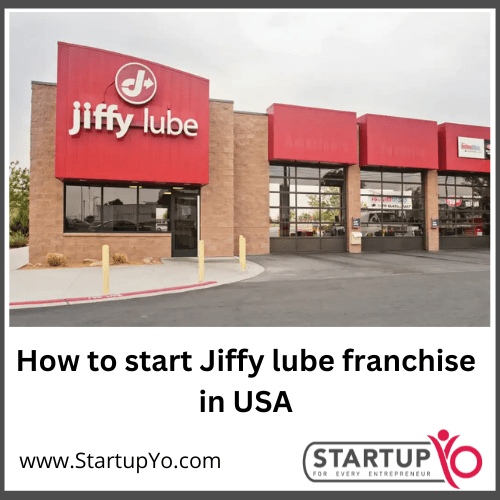 How to start Jiffy Lube Franchise in USA
Complete guide to start Jiffy Lube Franchise in USA
Jiffy Lube franchise Overview
Jiffy Lube is the biggest chain of Oil change and preventive maintenance with a quick lube change in the United States. Cars are a big business in U.S automotive market, and all cars need oil changes and other services like repairing air filtration, transmission, air conditioning, and fuel system. With a history of success and well-known reputation they currently own over 2000 stores and is currently led by CEO, W James Hindman.
In 1971 Jiffy Lube's first store came into being on 36th Street in Ogden, Utah by Edwin H. Washburn. They started franchising in 1979. In 1987, Jiffy Lube went public and by 1989 there were over 1,019 Franchises and stores. With more than 35 years of experience, currently Jiffy Lube has more than 20 million customers who rely on them yearly. It was ranked #1 in category in Entrepreneurs 2022. Its headquarters is located in Houston, Texas.
Jiffy Lube Franchise Benefits
Top benefits for joining Jiffy Lube market:
Automotive Services Excellent (ASE) accredited program: under this program franchise owners can win award winning online and in-store training through Jiffy Lube University.
Skill & Knowledge: franchise owners and their employees will be provided with skill and knowledge by Jiffy Lube University for exception service.
Marketing Operations: in order to make your business a huge success the franchise remains always available in order to guide you in every step.
12-week Onboarding Process: this benefit is for all new Franchise  owners, this process is for the welfare of every new store owner.
Training: they provide 40 hours of On-The-Job training and 120 hours of Classroom training.
Owners can enjoy other benefits like, Brand Recognition, Proven System, Network of Support and Fleet Services.
Jiffy Lube Franchise Requirements
For Jiffy Lube Franchise you need to require liquid assets of $250k, minimum fee of $35k, and average unit revenue of $822k.
| | |
| --- | --- |
| Liquid assets  | $250,000 |
| Franchise Fee  | $35,000 |
| Average Revenue  | $822,000 |
| Royalty  | 5% |
| Marketing fee | 1.5% |
| Local Marketing  | 2.5% |
Jiffy Lube Franchise Cost
For the Jiffy Lube franchise its estimated total investment ranges from $232,000 to $442,650. Chat below includes 2022 upfront costs, one time fees, and other costs to launch the franchise.
Type of Expenditure

 

Amount

 

Payment made to

 

Initial Franchise Fee 

$0 – $35,000

US

Conversion Fee

$17,500

US

Rent & Security deposit- 1 month

$16,000 – $40,000

US, Landlord 

Equipment, signs & fixtures 

$125,000 – $325,000

US, Vendors, Landlord 

Initial Inventory 

$20,000 – $30,000

US, Vendors 

Opening Marketing Experience 

$15,000 – $20,000

Advertising, media other vendors 

Insurance 

$10,000 – $20,000

Insurance carriers 

Training Expenses (owner + employees)

$1,000 – $5,000 (wages of attendees excluded)

Airlines, hotels, etc

Additional Funds 

$45,000

Employees, Suppliers, Utilities, govt, agencies, etc

Total Expenditures

$207,000 – $500,000

 

Growth Funding 

$0 – $77,350

To Franchisee

Net Total

 

$232,000 – $442,650
 
Jiffy Lube Franchise Profit
For the franchisor it is a very profitable business with retained earnings of $1.9 billion in 2022 Q1 compared with a loss of $133 million in 2020 Q1.
 
 
 
Revenue
2022
2021

Sales & other operating revenue:

Equity investment Income

Net gain (loss) on sale of assets

Interest income

Other income 

$18,408

365

150

11

37

$14,520

103

(74)

19

48

Total Revenue
18,971
14,616

 

Costs & Expenses 

 
 

Purchased raw materials & products

Operating expenses

Selling, general and administrative Expenses

Exploration

Research & Development

Depreciation, Depletion & amortization

Assets impairments & write-offs 

Interest expense 

13,710

1,123

723

39

19

1,352

8

8

10,248

1,934

644

141

20

1,622

45

75

 

Total Costs & Expenses 

16,982
14,729

Income/ (loss) before income tax 

1,989

(113)

Income tax (expense) / benefit

(444)

62

Net income/ (loss)

1,545

(51)
For the franchisor it is a very profitable business with retained earnings of $1.9 billion in 2022 Q1 compared with a loss of $133 million in 2020 Q1. 
Jiffy Lube Locations
This recognized leader of the car care category has over 2000 locations in the USA and worldwide. As per 2021 data, top States in USA with most number of Jiffy Lube Locations.
California is leading with 265 stores for every 149102 people which is about 13% of all its locations.
Texas with 155 stores for every 187070 people which is about 7% of all its locations.
Illinois with 107 stores for every 118428 people which is about 5% of all its locations.
Jiffy Lube Services
In order to keep your most important asset in top shape and conditions, Jiffy Lube provides many services like manufacturing, maintenance, checkup and other services to keep your vehicle going.
Oil change: they provide oil change service for your engine in order to keep your vehicle clean, cool and protected.
Battery: in order to run efficiently they provide many different services like battery tested, new battery or the terminals cleaned.
Brakes: in order to keep your stopping power responsive and reliable, they provide everything from brake pads to brake fluids to get you back on the road quickly.
Engine: for your engine's longevity, reliability and optimal performance they provide its services like check engine lights, spark plugs, serpentine belts and radiator hoses.
Exterior & Glass: for a better view, clarity and well-lit, they provide exterior & glass service.
Filters: they provide every kind of filter services like filtering a fluid or the air for optimal performance & vehicle longevity.
They also provide other important services like Fluids, Inspections, Suspension, Tires and much more.
Jiffy Lube Franchise Application
To apply for the Jiffy Lube franchise, you need to ensure meeting criteria of basic requirements. In order to establish the franchise,
You need to calculate the start-up costs.
You need to understand the required opening fees.
In order to know more, you can request for more information while addressing them directly.
Sign an agreement for a period of 20 years, you can also renew it later for 10 years.
Congratulations, the store is all yours.
Conclusion
Jiffy Lube has a powerful network, proven model and an opportunity providing industry. They have successfully run the automotive preventive maintenance industry for the past 35 years and are currently working on the mission to go beyond oil changes alone. They are providing other satisfactory services for their customers so they can Leave Worry Behind.
If you want to be a part of Jiffy Lube and are dedicated towards this profession then you need to check its required criteria and start your business, because it's best for the long run, very profitable and worth investing in. 
Frequently Asked Questions(FAQ's)