Cosmetic business overview
Over the years, the skincare market in India has grown significantly, driven by reasons such rising disposable incomes, greater skincare awareness, changing lifestyles, and a rising preference for personal grooming. The skincare market size in India was estimated to be worth several billion dollars. To start a successful cosmetics business company, do extensive market research to identify your target market and rivals. Create a thorough business plan that details your merchandise, costs, marketing approach, and financial projections.
Complete all required legal requirements, including obtaining licenses and business registration. Design appealing packaging, find or make high-quality cosmetics, and build strong supplier connections. Develop a strong online identity by creating a business website and using social media platforms, and use powerful marketing techniques to advance your brand. For long-term success of cosmetic business in India deliver first-rate customer service, follow legal and financial regulations, and monitor your finances carefully for expansion and sustainability.
Read more : How to Start Lipstick Making Business In India ?

Cosmetic Business Ideas
To validate your chosen concept and comprehend the preferences and wants of your target customers, remember to undertake thorough research of the cosmetic market in India.
Some cosmetic business ideas you could consider are :
Organic/Natural Cosmetics Line :Making cosmetics with a variety of natural and organic ingredients to appeal to customers who value green products and those without chemicals.
personalized makeup Products :Provide customers with individualized cosmetics products that are matched to their specific skin tones, tastes, and requirements.
Men's Grooming Products : Create a range of cosmetics, skincare, and beard care products that are particularly made for guys.
Sustainable Packaging Brand : Focus on environment friendly and sustainable packaging options for cosmetics to assist firms lessen their impact on the environment.
Vegan/Cruelty-Free Cosmetic : Introduce a range of completely vegan and cruelty-free cosmetics to appeal to customers that appreciate morally upright and animal-friendly goods.
Specialized Skincare solution : Develop specialized skincare items for ailments like acne, ageing, or sensitive skin.
Inclusive Beauty Products : Develop a line of cosmetics that accommodate various skin tones and kinds to promote inclusivity and representation.
Cosmetic Accessories :Create and market distinctive cosmetic equipment, brushes, and accessories that improve the use and application of makeup.
DIY Beauty Kits : Provide DIY beauty kits, which let clients make their own cosmetics at home and offer a creative and enjoyable experience.
Subscription Beauty Boxes : Provide customers with a surprise and convenience by curating and delivering monthly subscription boxes filled with different skincare and cosmetics products.

Cosmetic Business Plan
It would be a good idea to start a specialized organic cosmetics brand that combines the attractiveness of natural components with a flexible approach, enabling clients to customize makeup items to their own preferences and skin tones. This innovative combination distinguishes your cosmetic company in the cutthroat industry while catering to eco-conscious clients and providing a personalized beauty experience. The road map for the success of cosmetic companies in India is laid out in a thorough business plan for cosmetics.
It starts with a concise executive summary that highlights the idea behind your company, your mission, and your main goals. To better understand your target market, industry trends, and competitors, conduct in-depth market research. Define your product line, supplying information on the components, processes, and packaging. Create a price plan that takes market positioning, production costs, and perceived value into account.
Your approach should include information on branding, social media presence, influencer partnerships, and potential advertising channels. Describe your distribution methods, including if you use physical stores, an e-commerce platform, or both. Include financial predictions that detail initial costs, ongoing costs, projected sales, and profit margins. Highlight the skills and responsibilities of your team while addressing any legal and regulatory constraints.
Talk about your manufacturing and supply chain procedures, making sure that quality requirements are followed. A good cosmetic shop business plan illustrates your in-depth knowledge of the sector and outlines a calculated path to success, making it a crucial document for prospective lenders or investors.
Read More : How to Start A Beauty Parlour Business In India ?
Cosmetic License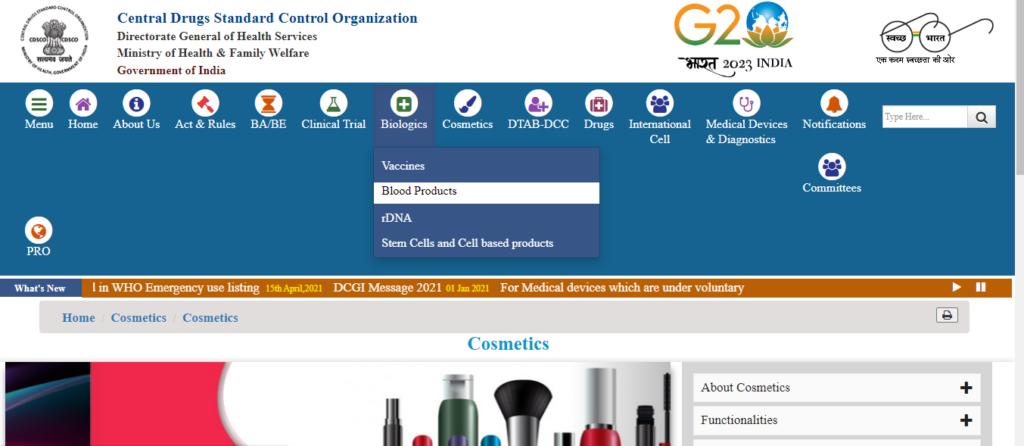 A crucial first step in starting your cosmetics business is obtaining a cosmetic license. This licence guarantees that your products follow safety and legal requirements, protecting the welfare of consumers. A critical first step in opening a cosmetics company is obtaining a cosmetic license. Your cosmetic items will be in compliance with safety and legal requirements thanks to this license. Depending on the nation and jurisdiction, different conditions and procedures may be needed to receive a cosmetic license. The following steps are typically involved
Research Regulations : Do some research on the laws and requirements pertaining to cosmetics in your nation or region. Regulations may include standards for product claims, labeling, packaging, and ingredient safety.
Formulation and Ingredients : Ensure that the ingredients you employ are secure, authorized for use in cosmetics, and adhere to any limitations or restrictions imposed by regulatory bodies.
Product testing : Put your cosmetic items through the appropriate efficacy and safety checks. Testing for stability, skin sensitivity, and other pertinent issues may be necessary.
Labeling Compliance : Create labels for products that accurately list ingredients, offer usage guidance, issue warnings, and include contact information. Labels should follow legal requirements.
Product Information File (PIF) : For each cosmetic product, prepare a thorough Product Information File (PIF) that includes details about the product's formulation, safety evaluation, and other pertinent information.
Submit Application : Prepare your application for a cosmetic license and send it to the relevant regulatory body. This can entail giving the necessary information, such as test findings and supporting documents.
Review and Approval : Your application and any accompanying materials will be examined by the regulatory body. They might evaluate the compliance and safety of your items.
Issuance of License : Upon satisfactory examination and approval, a cosmetic licence will be granted to you, enabling you to lawfully produce and market your cosmetic goods.
Ongoing Compliance : After getting the licence, make sure that rules are followed consistently. Review and update your product formulas, labels, and supporting paperwork as needed on a regular basis.
To successfully manage the licensing procedure and make sure that your goods meet all relevant standards, it is crucial to engage with legal specialists or regulatory consultants who specialize in cosmetics.

Conclusion for Cosmetic Business
Launching a cosmetics company involves thorough planning, commitment, and respect to legal requirements. You may set up your company for success in the cutthroat cosmetics market by conducting in-depth market research, designing a distinctive product line, building a strong brand identity, and putting good marketing methods into practice. Getting a cosmetic license is essential for ensuring the safety of the product and regulatory adherence. Remember that your cosmetics company will expand and last if you consistently innovate, engage your customers, and uphold quality standards.
FAQ's
How to arrange a cosmetic shop? 
There are various steps involved in arranging a cosmetic shop such as layout, display, product placement, lighting, inventory management, consultation area, customer comfort etc.
How to make cosmetic products? 
Creating cosmetic products involves several steps. First, research and decide on the type of product you want to make. Next, carefully measure and mix the ingredients following the recipe or formulation you've designed.
How to start a cosmetic brand? 
Research the market ,Develop high-quality products and formulation , Create a memorable brand name and log , Comply with regulations for cosmetics manufacturing and labelling.
How to start an online cosmetic business? 
Research the market and identify your target audience , Create a unique brand identity, including a memorable name and logo, Source high-quality cosmetic products from reliable suppliers
Disclaimer: The information contained in this article is for general information purposes only. The information is provided by StartupYo (SAB Weblabs Pvt. Ltd). While we endeavor to keep the information up to date and truest to the best of our knowledge, we make no representations or warranties of any kind, express or implied, about the completeness, accuracy, reliability, suitability, or availability with respect to the website or the information, products, services, or related graphics contained on the website for any purpose. Any reliance you place on such information is therefore strictly at your own risk.