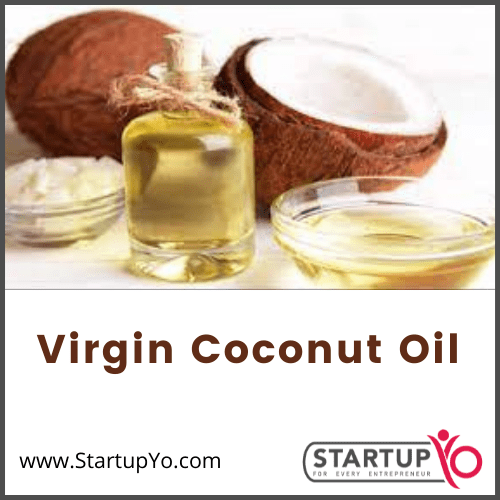 How is Virgin Coconut Oil Made?
Virgin Coconut Nut Oil is simply called as "VCO" that comes from the extraction of fresh coconut. StartupYo suggests that if you are living in a coconut growing area then you can initiate Virgin coconut oil making business. In the coastal areas of India, the coconut palms can be hugely found. Follow this article to know what is the benefit of drinking virgin coconut oil, what is the machinery required to manufacture a Virgin Coconut Oil, and how do you know if coconut oil is virgin (or) not
How to Make Virgin Coconut Oil?
It is edible oil extracted from the meat of matured contents (or) kernel that harvested from the coconut palm. The following are the simple steps on how to make virgin coconut oil:
Step – 1: Firstly, you need to do dehusking of raw coconut



Step – 2: Secondly, you should do deshelling of fresh coconut
Step – 3: Thirdly, you must do paring of raw coconut




Step – 4: After this, you have to do blanching of fresh coconut
Step – 5: After that, you may do draining of coconut
Step – 6: Then after, you need to disintegration process
Step – 7: Also, you should extract the milk
Step – 8: Furthermore, you must do centrifugation
Step – 9: Lastly, you have to do filtration
The above simple steps on how to make virgin coconut oil can be explained briefly in the following:
You need to do de-husking of coconut
You need to do the de-husking of coconut is the first step in the simple steps on how to make virgin coconut oil. In this step, with the help of coconut dehusking machine, the husk is removed manually
Also read :
You should do de-shelling of coconut
In the simple steps on how to make virgin coconut oil the second step is you should do de-shelling of coconut. In this step, the coconut shell is removed without the breaking of the kernel
You must do paring of coconut
You must do the paring of coconut is the third step in the simple steps on how to make virgin coconut oil. In this step, with the help of a paring machine the brown skin if the kernel is removed
You have to do blanching of coconuts
In the simple steps on how to make virgin coconut oil the fourth step is you have to do blanching of coconuts. In this step, the coconuts which are pared are dipped in boiling water for few minutes in a blanching tank
You may do draining of coconut
You may do draining of coconut is the fifth step in the simple steps on how to make virgin coconut oil. In this step, the excess of water content which is present in the blanching process can be removed with the draining process with the help of a vibratory screener



Subscribe To Our Newsletter
Get updates and learn from the best