Bath Salt Making Training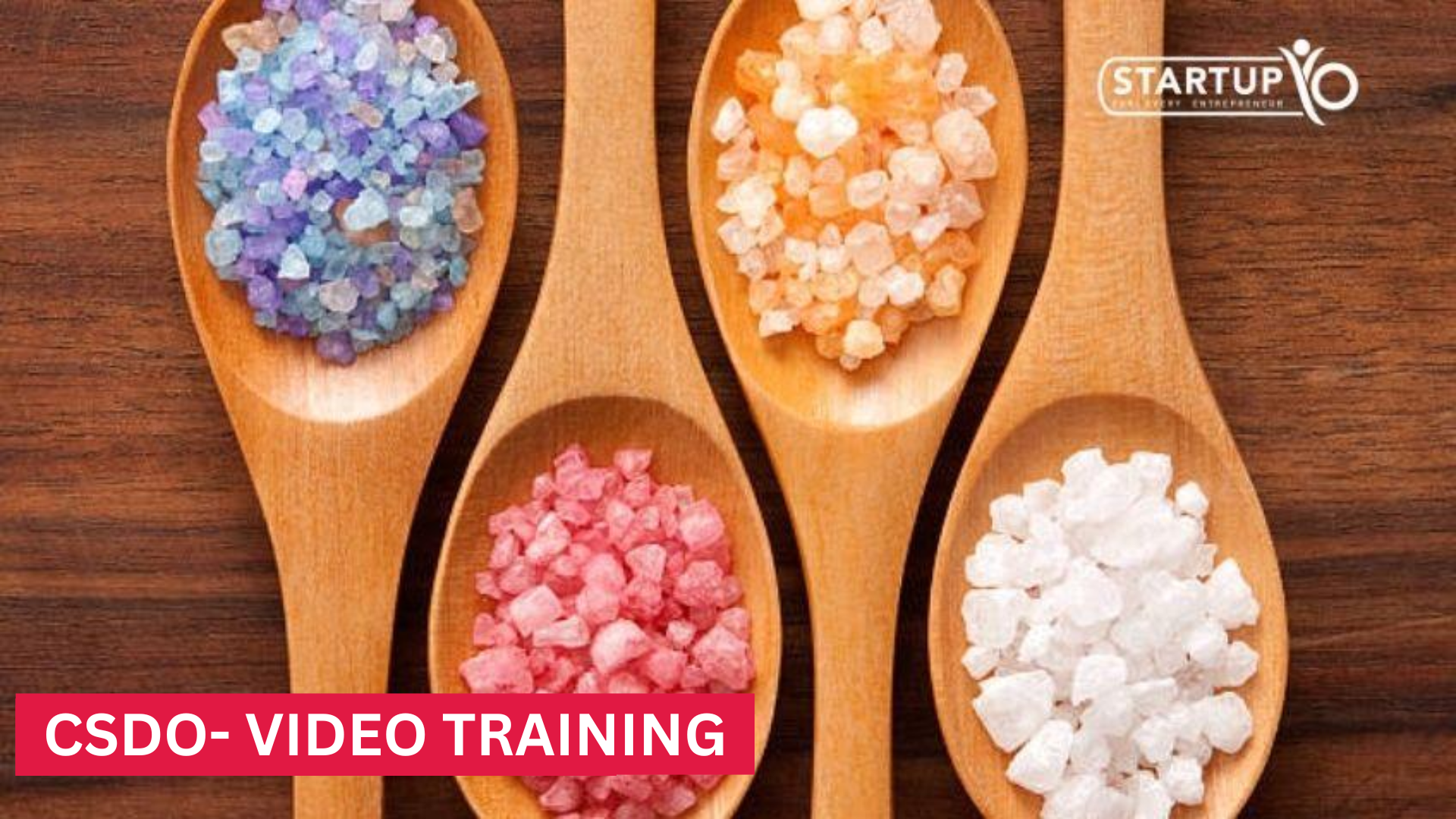 About Course
Bath Salt Making Training
Bath salt is a usually colored crystalline compound for perfuming and
softening bathwater; it helps get rid of stress and free from various health
problems such as body ache, shoulder pain, etc.
Making Epsom salt baths an easy and ideal way to enjoy the associated health
benefits.
Magnesium plays several roles in the body, including regulating over 325
enzymes, reducing inflammation, helping muscle and nerve function, and helping
to prevent artery hardening. Sulfates help improve the absorption of nutrients,
flush toxins, and help ease migraine headaches.
Benefits of Bath Salt
The wonders of Epsom salt have been well known for hundreds of years and,
unlike other salts, has beneficial properties that can soothe the body, mind, and
soul. Some of the countless health benefits include relaxing the nervous system,
curing skin problems, soothing back pain, aching limbs, easing muscle strain,
healing cuts, treating colds and congestion, and drawing toxins from the body.
These are described like this:-
Relieves stress and relaxes the body
Relieves pain and muscle cramps
Helps muscles and nerves function properly.
Helps prevent the hardening of arteries and blood clots.
Eliminates toxins from the body
Why choose us
We are having 35 years of rich experience, which makes it the most informative academy.
We give you one-to-one knowledge and industrial expertise as we have experts sharing their wide range of study of years, which adds to the value.
We have gained tremendous experience, so be it India or overseas, we have achieved positive responses worldwide.
We have a course review system, and the plan is to help our student start their manufacturing.
Our courses are well-planned, and we have shared the best secrets to give you an excellent quality finished product.
We have formulated our handout copies, so there are no duplicate notes.
We believe that practical knowledge is everything, so our online workshops have been more in demand.
Our teaching methodology is well versed with examples so that anyone can understand.
Our mission is pure to help you in all the ways required.
We are your partner in success and give you lifetime support even after course completion.
For more Soap Making courses Visit here
You can also learn:
FAQ's
1.How many kinds of bath salt will I learn in this course?
After doing a course from CSDO, You can make unlimited types of bath salt.
2. Do we get all the material quickly?
Yes, all the materials are readily available.
3. How do I know it again if I don't understand any topic?
After the class, we will share the videos, you can attend the webinar next time free of cost.
4.Will I get the certificate after completing the course?
Yes, we issue the certificate.
What Will You Learn?
Course Curriculum

1st day

Introduction of bath salt

The benefit of bath salt

Raw material for bath salt

Equipment for making bath salt

Plain bath salt

Madagascar vanilla bath salt

2nd Day

Floral bath salt

Bulgarian Rose bath salt with Himalayan pink salt

Lavender bath salt with Himalayan salt

3rd day

Aromatherapy bath salt

Soothing bath salt

Antistress bath salt

Packing ideas of bath salt

Labeling of bath salt