Baby Products Making Training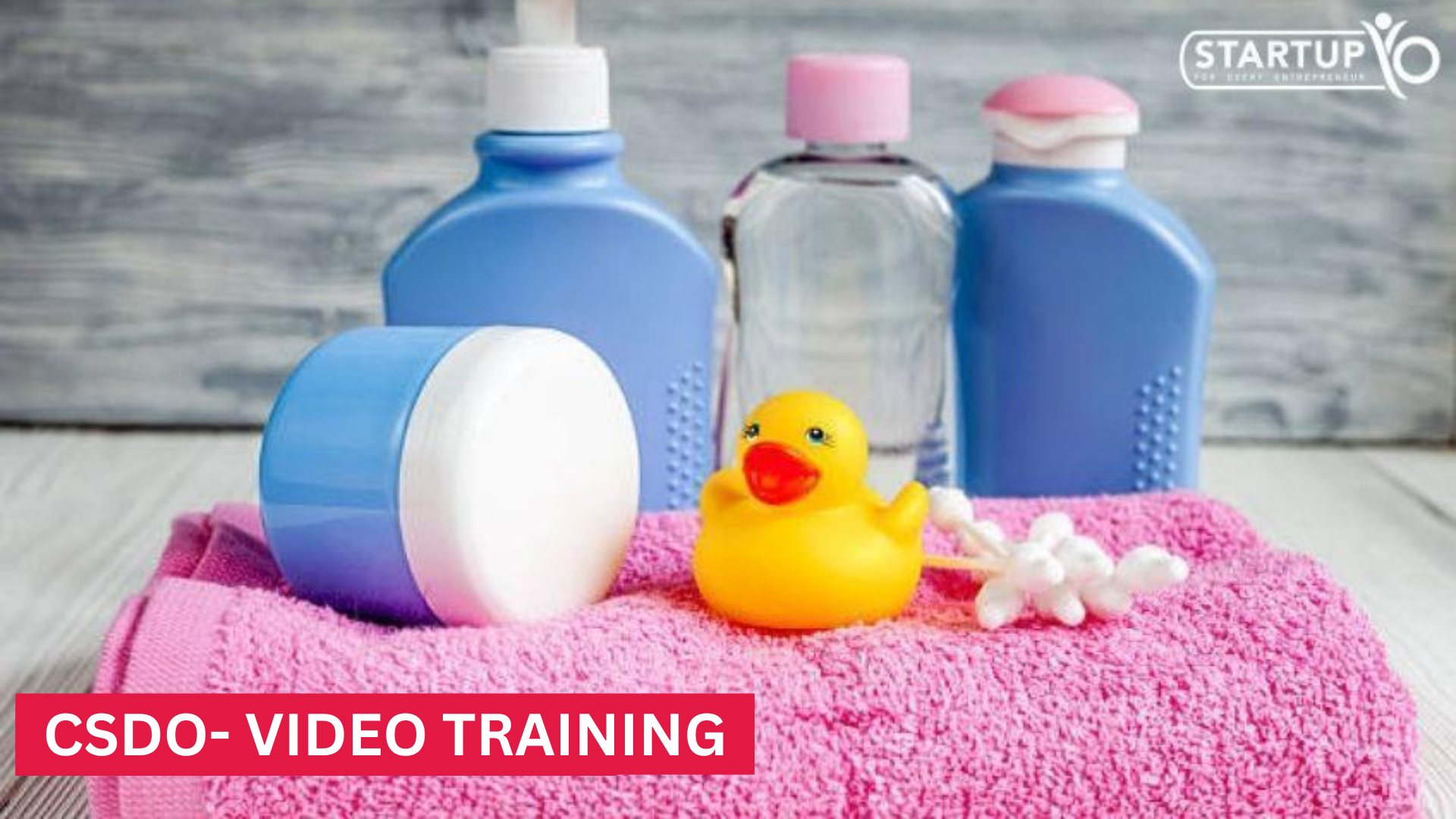 About Course
Baby Products Making Training
Introduction
Baby products are those which are made to use on the most sensitive, soft skin under the age of 3.
The skin of infants differs from adults as it's less hairy, thinner, and less cornified; therefore, proper care is to be taken. Therefore, to avoid irritation or infection, baby care products are specially formulated using mild and soft ingredients. Baby Lotions, Oils, Powders, and Creams are products that are intended to be used to moisturize and soften the skin of infants. These products are specially formulated to be mild and non-irritating. Many Baby Lotions, Creams, and Oils contain mineral oil with a concept to make skin soft and without any side effects.
For the tender and soft skin of the baby, every precaution to be observed while buying raw material or formulation, so select care full to get the best results. So is the aim of the course to give you mastery in formulating baby skin products.
Why choose us
CSDO is having 35 years of rich experience, which makes it the most informative academy.
We give you one-to-one knowledge and industrial expertise as we have experts sharing their wide range of study of years, which adds to the value.
We have gained tremendous experience, so be it India or overseas, we have achieved positive responses worldwide.
We have a course review system, and the plan is to help our student start their manufacturing.
We have formulated our handout copies, so there are no duplicate notes.
We believe that practical knowledge is everything, so our online workshops have been more in demand.
Our teaching methodology is well versed with examples so that anyone can understand.
Our mission is pure to help you in all the ways required.
We are your partner in success and give you lifetime support even after course completion.
Frequently Asked Questions (FAQ)
I am neither from the chemistry side nor any knowledge of chemicals. Can I enroll in the BABY PRODUCTS course?
Dear, learning cosmetic-only requires your passion, interest, and time. Rest leave on CSDO as all the experienced faculty members can easily teach you the primary and elementary knowledge of the particular cosmetic or subject.
All the study material is prepared in easy to understand language. With practical guidance, everything becomes relatively easy.
So no need for chemistry or chemical knowledge.
Are these baby products preservative-free?
No, dear, as it is given shelf life for one year, but very mild, paraben-free preservatives are added to suit the baby skin.
Will I get any certificate after doing the baby product course?
Yes, we reward an online certificate after completing the course.
Which products are covered in baby cosmetics?
CSDO has included professional formulation of baby cream, baby lotion, baby butter, baby massage oil, baby powder, and baby wash. All recipes are as per baby skin demand and as per their skin demand.
Can I make a big batch of all types of formulations or making baby products without my teacher's help?
Of course, as with easy-to-follow calculations, CSDO has planned the class to teach you to make a small or big batch. The teacher's rich experience will help you understand the calculations to convert various sizes of batches.
If I am unable to understand the making of a product, what should I do?
Dear, CSDO has made specific policies, especially for the convenience of the learners, sitting worldwide. If students cannot understand a particular course, they can revise the class free of cost. Now get assured that Joining CSDO will help you learn in the best possible way at your own convenient time and ease.
Will I get the certificate after completing the course?
Yes, we provide the certificate.
What Will You Learn?
Syllabus theoretical

Definition of Baby Care Products.

History of Using Baby Care Products,

Types of Baby Care Products available in the market,

How Baby Care Products May Affect Baby Skin and Hair?

What are desired qualities and characteristics of baby products.?

How to select the ingredients for the baby's skin

Syllabus practical

Suitable formulation of all the baby care cosmetic

Products include baby shampoo,

Baby lotion

Baby powder

Baby cream

Baby butter

Baby wash.