PARTNERSHIP FIRM REGISTRATION
A partnership firm is a company founded by two or more partners with the intention of making a profit.
According to the law, a partnership is a group of people who have agreed to split the earnings from a business that they all, or any of them, represent in the banking industry.
Have any Questions? Ask now
The quickest and hassle-free way of acquiring Partnership Firm Registration is through StartupYo.
Partnership Firm Registration has become an easier step for all businesses. However, it demands a lot of time and effort if done individually, and hence StartupYo eases the process by helping you with Partnership Firm registration.
GOVERNMENT FEES+ APPLICABLE EXTRA CHARGES
What is a Partnership Firm?
A partnership is a significant form of business organization where two or more individuals come together to start a business venture and share profits in a fair manner. Any business, trade, or profession can be undertaken under a partnership. Compared to corporations, forming a partnership is easier and involves fewer legal formalities. Partners are the individuals who collaborate to form the partnership firm, and a partnership deed is an agreement between them that establishes the firm. This partnership deed outlines the terms and conditions governing their relationship with one another and with the partnership firm.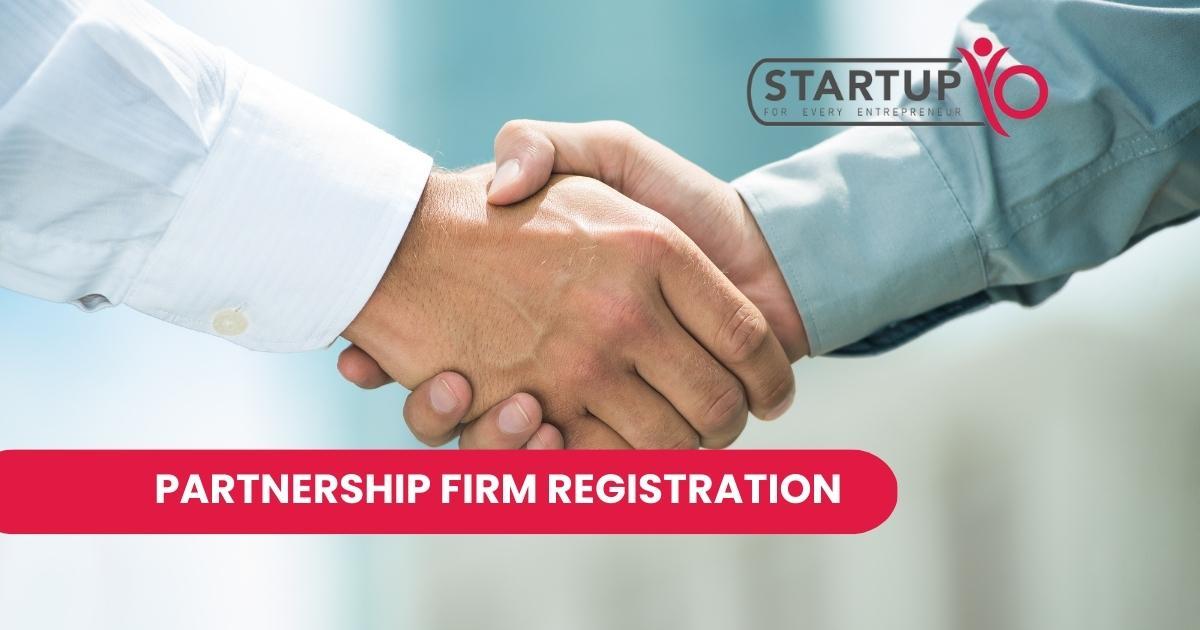 Overview on Partnership Firm
Partnership registration does not allow the firm to become a debtor, creditor, or property owner. Instead, the partners are held responsible for the assets, liabilities, and credit of the partnership firm, as per the law. It is crucial for the partnership agreement to explicitly state how profits and losses will be shared among the partners to prevent any misunderstandings in the future. In a partnership firm, each partner can act as an agent for the other partners when conducting business. Registering as a partnership firm is a suitable option for certain businesses, particularly home-based ones that are unlikely to incur significant debts. This is because it is a cost-effective and simple registration process with minimal compliance requirements. General partnerships have an optional registration process. If there are no more than two partners left in a partnership firm due to a partner's death, incapacitation, or resignation, the partnership firm registration will be terminated.
Characteristics of Partnership Firm Registration

The characteristics of partnership firm registration are as follows:
Number of Partners:
A minimum of two partners are required to form a partnership. The maximum number of partners allowed is 10 for banking transactions and 20 in other cases.
Contractual Partnership:
Each partner is bound by a contractual agreement, which outlines the terms and conditions of the partnership. The initial partnership deed registration format should include various factors that govern the relationship, and all partners must sign the document.
Competence of Partners:
The partners entering into the partnership agreement must be adults with the necessary capacity and cannot be minors.
Profit and Loss Sharing:
The partners divide the profits or losses according to the percentages that were determined and noted in the agreement.
Unlimited Liability:
As per the provisions of the Partnership Act, each partner in a partnership firm is equally and individually liable for any losses suffered by the firm.
Transfer of Interest:
A partner's interest in the partnership cannot be transferred without the consent of the other partners.
Partner-Firm Relationship:
Since each partner represents the business, they are expected to act in the best interests of the organization.
Types of Partnership Firm

There are the two different kinds of partnerships:
Registered Specific Partnerships :
When two people work together in a specific business activity or for a specific project, like constructing a road or installing railroad tracks, they are said to be in a specific partnership. After completing the task for which it was initially formed, this kind of collaboration will break down.
Partnership at Will :
A partnership by will is one in which the partners have not stipulated the duration or method of dissolution of their partnership.
Advantages of Partnership Firm Registration

Comparatively affordable : 
In addition to compliance and auditing expenses, starting a private limited company will cost you at least £15,000. Do you want all this baggage when you're just starting out? But, forming a partnership will only cost you roughly $2,000.
Easy to Start :
To register a partnership firm in India, all that is typically needed is to register the partnership deed. This simplicity makes it feasible for anyone to establish a partnership. In contrast, registering an LLP would require contacting the MCA for electronic signature, DIN, name approval, and incorporation, which could take 5 to 10 working days to complete.
Minimal Conformity : 
Creating a private limited company entails dealing with various additional factors, unless you seek the assistance of a professional to handle them for you. However, by establishing a partnership firm, you can avoid these complexities. When starting a business, you don't want to be bogged down with compliance tasks, rather you want to concentrate on developing your business.
Consequences of not registering the partnership firm

If a partnership firm is not registered, the partners still have rights under the Indian Partnership Act, 1932, but they cannot sue or claim a setoff in case of any dispute with a third party. On the other hand, third parties can file lawsuits against the unregistered partnership firm.
How to Register for Partnership Firm

Step 1: Submit an application form and pay the fees to the Registrar of Companies in the relevant state. The registration application must be signed and verified by all partners or their representatives

Step 2: Choose a name for the partnership firm that adheres to the guidelines, such as avoiding government references and duplicating an existing name.

Step 3: After reviewing the registration application and supporting documents, the Registrar will approve and issue a Certificate of Registration if everything is satisfactory. The Registry of Firms maintains current information on all registered firms, which is accessible for a fee.

If you need help with the registration process, StartupYo can assist you in conducting the registration search, filing the application, and ensuring compliance. Additionally, they offer cost-effective trademark registration services and provide regular updates on the application's progress.
Here are a few reasons why you should choose StartupYo for Partnership Firm Registration
A. All the classes are analyzed and the Partnership Firm Registration search is done by our professionals on your behalf.
B. With an authorization letter, we can file for Partnership Firm Registration on your behalf and handle all the follow-ups and compliances.
C. We provide the best support and regular updates on the application registered.
D. We provide the most affordable and competitive price for Trademark registration.
A partnership firm is a type of company where two or more people work together to manage and run a business in accordance with the conditions and goals outlined in a partnership deed, which may or may not be registered.
There must be two partners in a partnership. The maximum number of partners in a partnership firm in the banking industry is 10, while the maximum number of partners in any
other type of partnership firm is 20. These partners may distribute gains and losses in an equitable or unequal manner.
In a partnership firm, the partners are also the owners, hence they do not exist independently of the business. The firm's owners, the partners, are liable for any legal problems or debt that arise.
In India, the process of registering a partnership firm can take up to 10 to 12 working days. However, depending on the laws of the relevant state, it may take longer or shorter to receive a certificate of incorporation. Government processing times for partnership business registration vary by state and are prone to delay.
Only those who reside in India are eligible to join a partnership firm as partners or members. Private limited companies are an option for foreign persons who want to establish a business in India.
All partners are jointly and severally liable for any actions or inactions of the company throughout the course of business while they are partners. This means that all partners will be held accountable if a third party is harmed or fines are assessed during the course of business, even if one of the partners was at fault.
A partnership may frequently be declared invalid by the court if the partnership agreement is not registered. The court may deem the partnership illegitimate and dissolve it if the purpose of the business is illegal.
There is no minimum capital requirement for the registration of a partnership firm in India.