LIMITED LIABILITY PARTNERSHIP (LLP)
REGISTRATION

An LLP has the characteristics of both the partnership firm and company
Limited Liability Partnership (LLP)   has become a preferred form of organization among entrepreneurs as it incorporates the benefits of both partnership firm and company into a single form of organisation.. 
Have any Questions? Ask now
The quickest and the hassle-free way of acquiring LLP Registration is through StartupYo.
LLP Registration has become an easier step for all businesses. However, it demands a lot of time and effort if done individually, and hence StartupYo eases the process by helping you with LLP registration.
GOVERNMENT FEES+ APPLICABLE EXTRA CHARGES
What is a Limited Liability Partnership (LLP)?
The LLP is governed by the Limited Liability Partnership Act, 2008 in India. An LLP must have a minimum of two partners to be incorporated. Yet, there is no upper restriction on how many partners an LLP can have.
A minimum of two chosen partners must be persons and at least one of them must have a residence in India among the partners. The LLP agreement governs the obligations and rights of chosen partners. They bear primary responsibility for ensuring that all LLP Act of 2008 and LLP Agreement provisions are followed.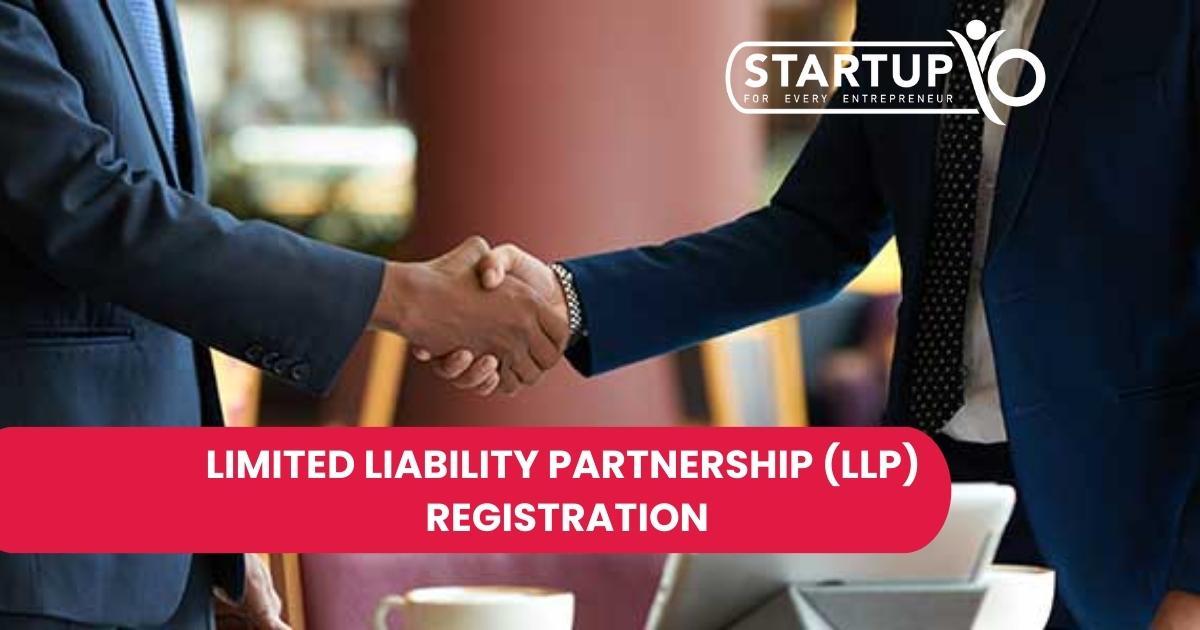 Overview on Limited Liability Partnership Registration
Limited Liability Partnership (LLP) combines the benefits of a partnership with that of a limited liability company. In India, it took shape after January 2009 and was an instant success with startups and professional services. The idea behind LLP was to provide a form of business that is easy to maintain and benefit owners with limited liability.
Who are Eligible to Obtain Limited Liability Partnership (LLP)

One must fulfil the following requirements in order to be qualified for LLP company registration:
An LLP must have a minimum of two partners (no upper limit)
To represent a body corporate that is a partner, a natural person must be chosen.
Each partner must agree to contribute to the shared capital, and the LLP must have at least one lakh in permitted capital.
Indian residents should make up at least one of the selected partners.
Time Taken for LLP Registration

The amount of time needed to form a limited liability partnership in India relies on receiving the necessary documents and making sure that all LLP Act requirements have been met. At most 14 days after Form-2 is submitted, the Registrar will register the LLP and issue a Form-16 certificate of incorporation.
Advantages of an Limited Liability Partnership


Four main factors influence people's decision to use an LLP as their company model:
Separate Legal Entity
The partners who make up an LLP are not related to one another legally. It has an unbroken existence and eternal succession, meaning that even if the partners part ways, the company will continue to operate. For the firm to dissolve, the terms of dissolution must be jointly agreed upon.
Suitable For Small Business

LLPs with capital under Rs. 25 lakhs and annual revenue under Rs. 40 lakhs are exempt from formal audit requirements. As a result, LLP registration is advantageous for new and small firms.
Limited Liability
An LLP's members are only partially responsible for the company's debt. The partners' personal assets won't be considered in the event of insolvency. On the other hand, proprietorships and partnerships will have their partners' and directors' personal assets frozen if the business declares bankruptcy.
Flexible Agreement
An LLP's ownership can be easily transferred as well. It is simple to add someone to an LLP as a designated partner, giving them ownership.

Documents Required for LLP Registration

The following LLP registration requirements has to submitted while registering the firm
The partners has to provide the following documents:
PAN card or passport (foreign nationals or NRIs)
Aadhar card/ voter's ID/ passport/ driving license
Latest bank statement/ telephone bill/ mobile bill/ electricity bill/ gas bill
Passport-size photograph
Blank document with specimen signature.
Note: One partner must self-attest the first three documents. In the case of foreign nationals or NRIs, all the documents must be notarized (if currently in India or a non-commonwealth country) or apostilled (if from a commonwealth country).
Here are a few reasons why you should choose StartupYo for LLP Registration
A. All the classes are analyzed and the LLP Registration search is done by our professionals on your behalf.
B. With an authorization letter, we can file for LLP Registration on your behalf and handle all the follow-ups and compliances.
C. We provide the best support and regular updates on the application registered.
D. We provide the most affordable and competitive price for Trademark registration.
Regarding the relationship between the various partners in the LLP, an LLP agreement is made between the partners and the LLP. An LLP agreement typically includes management guidelines, provisions for adding new partners, methods for formulating policy, etc.
You can reach out to StartupYo to complete the process, we can register your LLP within just a few minutes. Make sure to resolve all your queries with our expert team.
Typically, only start-ups that will not be looking for venture capital funding register LLPs. This is because venture capitalists only invest in private and public limited companies.
Any individual partner can become a designated partner in an LLP by consenting to it and in accordance with the LLP agreement
An LLP must be established with at least two designated partners, as per the LLP Act. The designated partners are in charge of completing all requirements necessary to establish and maintain an LLP.
Typically, only start-ups that will not be looking for venture capital funding register LLPs. This is because venture capitalists only invest in private and public limited companies.
Any individual or body corporate can be a partner in an LLP. However, minors, persons of unsound mind and an undischarged insolvent cannot be partners in an LLP.