Making and selling food items out of your home is a requirement for starting a home-based food business. Crafting different culinary products, such as baked goods, dinners, snacks, or specialty items, is included in the scope. This strategy frequently provides reduced startup expenses, flexible working hours, and the chance to access regional markets. When working within the constraints of a domestic environment, it's crucial to take into account legal requirements, health and safety standards, as well as potential scaling problems.
Food Business from Home
A food business from home requires dedication, hard work, and a commitment to quality and safety. It's important to stay informed about any changes in regulations or market trends as your business grows. Starting a food business from home can be an exciting venture.
Some steps to help you get started are :
Research and Planning : Start by learning about the rules and licenses that apply to running a home-based food business in your area. Make a business plan that details your offerings, ideal customers, costs, and promotional tactics.
Choose a Niche : Select the food category that you want to sell. It could consist of baked items, prepared foods, snacks, or a particular type of food. Think on the market demand, your talents, and your interests.
Develop Recipes : Develop and improve your recipes. Make sure they are distinctive, delectable, and wholesome. For taste and consistency, you might need to experiment and modify the ingredients.
Legalities and Permits : Obtain all licences, permits, and certificates that your local health department and regulatory organisations may require. This could involve a kitchen inspection and certification for food handlers.
Kitchen Setup : Set up your kitchen at home to adhere to health and safety regulations. Assure cleanliness, organisation, and space. It's crucial to keep personal and professional environments separate.


Sourcing Ingredients : Establish reliable sources for high-quality ingredients. Consider local suppliers, farmers, markets, and online options.
Packaging and Labelling : Create packaging that is both aesthetically pleasing and labelling compliant. Include crucial details like the ingredients, nutritional value, allergies, disclaimers, and contact information.
Pricing Strategy : Determine your pricing to cover costs, overheads, and ensure profitability. Research competitors' pricing in your market.
Testing and Feedback : Invite friends, family, and potential customers to sample your products and provide feedback. Use this feedback to refine your offerings.
Marketing and Branding : Ensure that your brand has a strong identity by developing a logo, website, and social media accounts. Utilise these networks to communicate with your audience, share behind-the-scenes information, and promote your items.
Start Small : Begin with a limited menu and gradually expand as you gain experience and customer trust.
Sales Channels : Decide how you'll sell your products. Options include local markets, online platforms, delivery services, or even subscription models.
Profitable Food Business Ideas
To achieve long-term success, a distinctive idea should also be well-executed, fit client needs, and be financially feasible.

Some profitable and unique food business ideas are :-
Healthy Meal Prep Services : Offer convenient and nutritious meal prep services for busy individuals or families.
Food Truck : Start a mobile food business selling popular and unique dishes in high-traffic areas.
Specialty Bakery : Create a bakery that specialises in unique or gourmet baked goods, like gluten-free or vegan options.
Gourmet Food Products : Make and sell artisanal products like sauces, jams, or condiments that appeal to food enthusiasts.
Catering Services : Provide catering for events like weddings, corporate gatherings, and parties.
Food Subscription Boxes : Curate and deliver themed food subscription boxes to customers' homes on a regular basis.
Ethnic Cuisine Restaurant : Focus on a specific ethnic cuisine that might be less represented in your area.
Juice Bar or Smoothie Shop : Offer fresh juices, smoothies, and healthy snacks to health-conscious customers.
Pop-Up Restaurant : Create a temporary dining experience in unique or unexpected locations, offering a limited-time menu.
Meal Kit Delivery for Specific Diets : Provide pre-packaged meal kits tailored to specific dietary needs, such as keto, vegan, or gluten-free.
Conduct thorough market research and create a solid business plan before diving into any venture. The success of a food business often depends on your passion, market research, and the ability to stand out in a competitive industry.
Some few fast food business ideas you might consider :
Healthy Fast Food : Create a fast food restaurant that offers healthier options such as salads, grilled items, and whole grain alternatives.
Gourmet Burgers : Elevate the classic burger by offering unique and gourmet ingredients, different types of meat, and specialty sauces.
Build-Your-Own : Offer a customizable menu where customers can build their own meals by choosing from various ingredients and toppings.
Read More : Top 5 Profitable Small Business Ideas in India
Comfort Food Revamped : Put a modern twist on classic comfort foods like mac and cheese, fried chicken, or pizza.
Dessert Shop : Focus solely on sweet treats like donuts, crepes, or specialty desserts.
Quick and Fresh Seafood : Provide fast and freshly prepared seafood options like fish tacos, shrimp bowls, or crab rolls.
The key to a successful food business is to identify a unique selling point, maintain quality, and provide excellent customer service.
Some home food business ideas you might consider :
Baking and Desserts : Offer baked items such as cookies, cakes, and other delicacies for celebrations and ordinary consumption.
Meal preparation services : Make and distribute wholesome, pre-made meals to families or active individuals.
Catering : Specialise in home catering for small events, parties, or gatherings.
Jam and Preserves : Create and sell homemade jams, jellies, and preserves using locally sourced ingredients.

Food Delivery Service : Start a food delivery service for a specific cuisine or dietary niche.
Homemade Snacks : Create and sell unique snacks, such as granola bars, trail mix, or flavoured popcorn.
Specialty Sauces and Condiments : Make and sell homemade sauces, dressings, or marinades.
Ethnic Cuisine : Share your cultural heritage by offering traditional dishes from your country or region.
Research local regulations, obtain necessary permits, and ensure food safety standards are met before starting any home food business.
Fssai License for Home Kitchen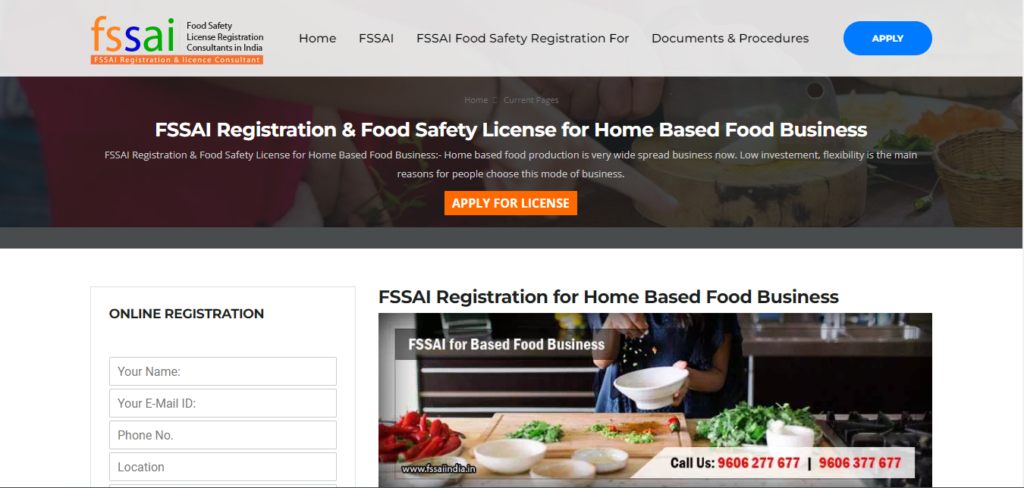 Even if you operate a home kitchen, you must get an FSSAI (Food Safety and Standards Authority of India) license if you engage in commercial food activities. Depending on your annual revenue and business size, you may need a specific sort of license. For the most up-to-date and correct information regarding the procedure and specifications for acquiring an FSSAI license for a home kitchen, it is recommended to check the official FSSAI website or contact them directly.
The general process to obtain an FSSAI license for a home kitchen in India, includes :-
Determine the eligibility : Verify that your home kitchen satisfies the requirements for the FSSAI licence category you want (Basic, State, or Central).
Application submission : Fill out the online application form for the relevant licence category on the FSSAI website. Describe your home kitchen and food business in detail.
Read More : How has FSSAI changed India's food industry?
Required documents : Prepare and submit the necessary documents, such as identity proof, address proof, food safety management plan, NOC from the landlord (if applicable), and other relevant documents.
Payment of fees : Pay the requisite licence fee online according to the chosen licence category.
Inspection : Your home kitchen will be physically inspected by an FSSAI inspector to determine if it complies with food safety regulations. Make sure your kitchen complies with all applicable safety and hygiene standards.
Licence issuance : Once your application is approved and your kitchen passes inspection, you will receive the FSSAI licence certificate.
Display the licence : Display the FSSAI licence at a prominent place in your home kitchen as required by law.
FAQ's
How to start a food business? 
Idea and Research , Business Plan, Legal Requirements , Location Menu Development
How to start a catering business?
A catering business demands commitment, a lot of work, and close attention to detail. To ensure the success of your company, each step requires meticulous strategy and execution.
How to start an online food business from home? 
Menu Development, Branding and Name, Legal Requirements ,Sourcing Ingredients
Which food business is more profitable? 
A food business's profitability might change depending on variables like location, target market, level of competition, and management. Fast-casual eateries, catering businesses