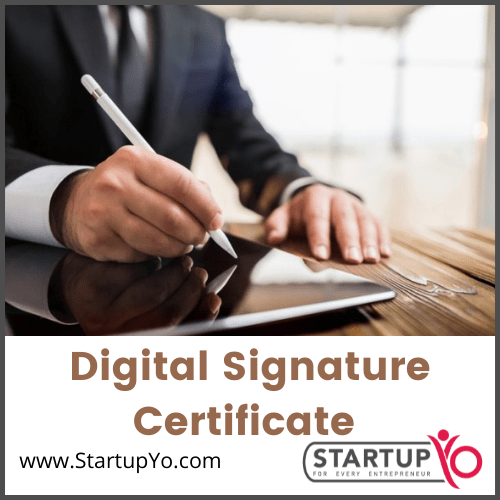 Digital Signature Certificate
What is Digital Signature Certificate?
DSC is provided for under The Information Technology Act, 2000 for the security and authenticity of the documents filed electronically. DSC is issued by a certifying authority under Section 24 of the Indian IT-Act 2000. It is extremely  useful and required in many processes like registration of a company, LLP, IE code and etc.
Types of Digital Signature Certificates
Class 2 DSC
This is issued to verify a person against a pre-verified database. The DSC is used for filing many forms and documents especially ones under Companies Act 2013. This is usually issued in the form of a USB token after the KYC process.
Class 3 DSC
This is more secure than the Class 2 DSC and is used to establish the identity in e-commerce and e-tendering processes. This class DSC is used mostly in auction processes that require DSCs without which there can be no bidding. The process for issuing is more tedious than the class 2 DSC.
Concept for electronic signature, distance business, mobile phone and contract hologram image for signature. remote collaboration, copy space. Mixed media
Document Required for DSC 2021
The documents required for a DSC will differ based on the kind of applicant.
Passport of the applicant.
PAN Card
Driving Licence/ Adhaar
Bank Account Passbook
A photo ID card with signature (issued by the Govt)
Govt ID for address proof
Water Bill or Electricity Bill (Not older than 3 Months)
Latest Bank Statements
GST registration certificate (VAT certificate will also do)
Attested copy of VISA (If the applicant is out of the native country). (NRI)
Attested copy of Resident Permit certificate or OCI card  Address Proof (NRI)
Documents of NRIs must be attested by the following authorities:
Embassy of  own Country
Apostilized by own Country, after Public Notary if in a Hague convention country.
DSC Registration Process
Click on the 

'Register DSC'

  on  http://www.mca.gov.in/MinistryV2/registerdsc.html .
Now, click on the 

'Director/Manager/Practising Professional'

  and fill-up your DIN.
System will verify the DIN and then fill details as per DIR-3. If the applicant has filed DIR-6, then fill the details as submitted in DIR-6 form. Then details will be verified.
If the details are correct, the system would prompt you to select the DSC.
Click on the 

'Select Certificate'

 button to browse and select the certificate
System shall validate the DSC.
If the selected DSC is already registered against given DIN, system will give an informatorily message
Click on the 

'Submit'

  and an acknowledgement number will be given for future reference.
FAQ'S
Subscribe To Our Newsletter
Get updates and learn from the best