Copyright Registration Process Introduction
The legal mechanism through which authors or owners of original creative works formally register and record their rights to such works with a government agency, often an intellectual property office, is known as the copyright registration process . This procedure offers legal protection and some advantages, such as the capacity to uphold copyright and pursue compensation in the event of infringement.
A copy of the work, an application, and a fee are typically submitted to the appropriate copyright office, where they are reviewed and, if everything is in order, a copyright registration is issued. This registration acts as ownership documentation and is frequently a requirement for taking legal action for copyright infringement.

Purpose of Copyright Registration
The purpose of the copyright registration process is to provide creators and authors with legal protection and certain benefits for their original creative works.
Some key purposes include
Establishing Ownership : Copyright registration process creates a record of the creator's ownership of a work in the public domain, making it simpler to demonstrate ownership in the event of a dispute.
Legal Defense : It grants the owner of the copyright the legitimate authority to reproduce, disseminate, perform, and exhibit the work.
Implementation : In many cases, registering is necessary before taking legal action against copyright violators. You're able to seek injunctions and damages thanks to it.
Deterrence : Potential infringers may be discouraged by the existence of a registered copyright since they are aware of the potential legal repercussions.
Royalties and Licensing : Due to the registration's stipulation of the conditions and ownership, registered works are simpler to license and royalties can be gathered more successfully.
International Security : Through international treaties and conventions, copyright registration process in some nations can help protection in other countries.
Preservation : By proving the existence and authorship of cultural and creative works, registration aids in their preservation for coming generations.
A key weapon for defending the rights and interests of creators and ensuring that their creative works receive the respect and legal protection they merit is copyright registration process .
Read More : Difference Between Copyright and Trademark
Steps Involved in Copyright Registration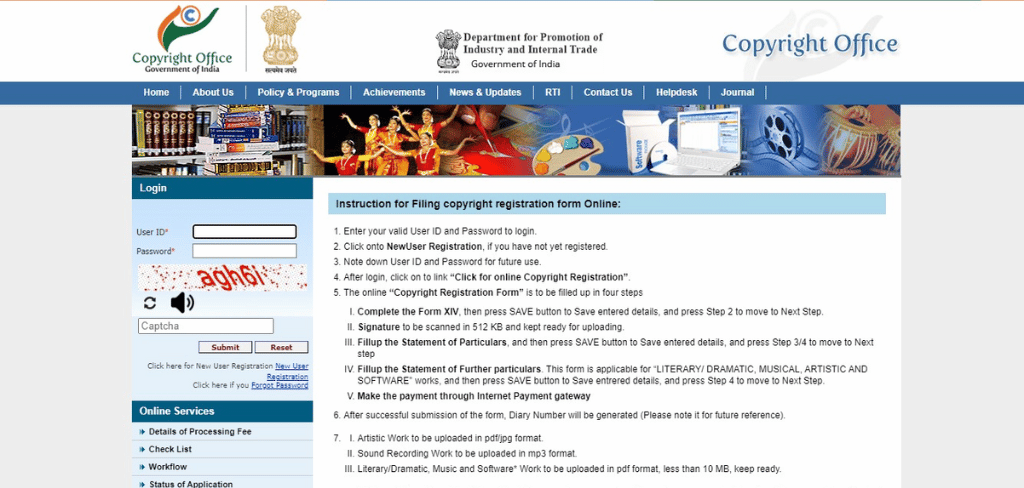 Copyright registration is a legal process that grants the creator of an original work certain exclusive rights to that work.
The registration process typically involves the following steps
Creation of the Work : The work must be first produced in a permanent, observable medium, such writing, recording, or coding. Not the ideas themselves, but the expression of ideas is protected by copyright.
Completing the Application : The copyright owner or creator is required to finish the copyright registration application. This entails offering comprehensive details about the work, such as its title, author, publication information, and category (e.g., literary, musical, artistic, etc.).
Filling the Application: The application is delivered to the appropriate copyright registration process office, which varies depending on the nation.
Payment of Fees: The registration of copyrights typically carries a cost. This cost must be paid by the creator or owner when submitting the application. Fees may differ based on the nation and the nature of the work.
Review and Processing : The application is examined by the copyright office to make sure it complies with all standards. This may entail verifying that the application is comprehensive and that the work qualifies for copyright protection.
Certificate Issuance : The copyright office will provide a certificate of registration if the application is accepted. This certificate is used as proof of the copyright and may be beneficial in court cases.
Copyright Duration : Depending on the nation and the type of work, copyright protection normally lasts for the lifetime of the creator plus 50 to 70 years.
Enforcement : Owners of copyrights have the sole authority to make copies, give them away, perform them, and put them on display. The copyright holder has the power to enforce their rights through legal action if someone else utilizes the work without their consent.
A work is immediately protected by copyright once it is produced and fixed in a tangible form. Although registration is not necessary for copyright to exist, it frequently comes highly advised, especially if you anticipate needing to assert your rights or demonstrate ownership in a legal setting. It is advised to speak with the copyright office or a legal expert for country-specific advice because the specifics of the registration process can differ by nation.

Benefits of Copyright Registration
Registering a copyright offers several significant advantages
Registration makes it easier to establish your ownership of a creative work in the event of infringement by making it public knowledge. This legal defense is very important if you need to file a lawsuit.
Registering your copyright prior to an infringement permits you to pursue statutory damages and attorney's costs, which can be significant and serve as a forceful deterrence to future infringers.
Registration establishes a presumption of ownership, which transfers the burden of proof in a claim of copyright infringement to the defendant.
Under some international accords, registration in one nation may serve as the foundation for protection in additional nations.
Read More : Company Registration In Hyderabad
Registration gives you a public record of the date your work was produced, which is useful in arguments about its originality and creation date.
Since registered copyrights are simpler to license and transfer, getting money off of your creative creations is made easier.
In many states, you must register your copyright in order to launch a claim for copyright infringement in federal court.
Copyright registration can assist you in obtaining swift injunctive remedies (court orders to prohibit illegal activity).
Copyrights that have been registered may have a higher market value and be more alluring to purchasers or investors.
Copyright registration ensures the legacy of your creative work by providing protection for it for the period of your life plus 50 to 70 years (depending on the nation).

Conclusion
An important security for creators and their intellectual property is the copyright registration process. By granting original works legal recognition and protection, it gives creators the authority to defend their rights and safeguard their works in the rapidly developing digital era.
Read More : What is the Trademark law in India?
Despite the process' apparent complexity, anyone wishing to safeguard their creative activities would be wise to take it as a step because of the benefits it offers in terms of legal remedies, licensing prospects, and protection against infringement. Therefore, if you're a writer, musician, artist, or other type of creator, you should think of copyright registration as a crucial instrument for maintaining and advancing your creative heritage.
FAQ's
Why is copyright important? 
Copyright is crucial because it safeguards the intellectual property of creators and promotes creativity and innovation. It gives authors exclusive rights to their works, enabling them to make money from them.
How to get copyright in India? 
Get ready the necessary paperwork, payment, and a copy of your work. Send these to the Copyrights Registration
How to check logo copyright? 
Check the website of your nation's official copyright office and browse their database for registered logos. To identify occurrences of the logo online and to look for copyright notices or ownership information, use reverse image search engines like Google Images.
Although it is not required, original creative works are given copyright protection when they are first created. This means that whether or not you register your original work of art, music, or writing, as soon as you produce it, it is copyright protected.
Disclaimer: The information contained in this article is for general information purposes only. The information is provided by StartupYo (SAB Weblabs Pvt. Ltd). While we endeavor to keep the information up to date and truest to the best of our knowledge, we make no representations or warranties of any kind, express or implied, about the completeness, accuracy, reliability, suitability, or availability with respect to the website or the information, products, services, or related graphics contained on the website for any purpose. Any reliance you place on such information is therefore strictly at your own risk.