Best CRM Software for Start-ups | StarupYo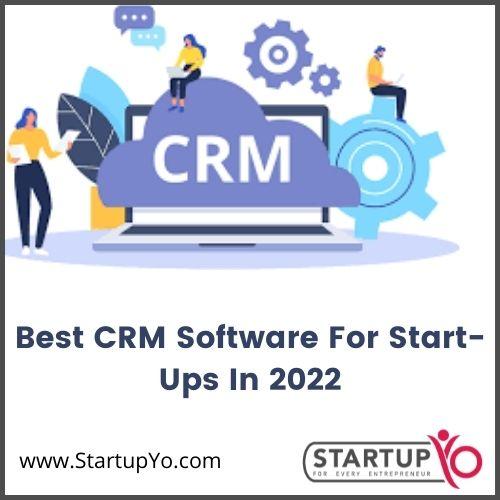 Best CRM Software For Start-ups 
Putting your Start-up idea into motion is a big task in itself for many entrepreneurs. Managing the capital, resources, staff members, marketing, and so on, becomes very complicated in the initial years of the business. This is the same reason why many Startups opt for CRM software that offers various tools which automate most of the crucial tasks of a business. With the different types of CRM software available in the market, it becomes easy for start-ups for automate of sales, marketing, operation aspect, and so on.
What is CRM software?
CRM or also known as Customer Relationship Management is a software tool that immensely benefits an organization or a company to create a good impression and manage customer relations on behalf of the company through its various tools. The main aim of CRM software is to manage customer relationships through various tools that provide features such as automation. However, along with the same, the tool also helps the business by time management, creating more efficiency, and easing up the task of the sales and marketing team. There are three types of CRM software,
Operational CRM
Analytical CRM
Collaborative CRM
Top 5 CRM Software for Start-ups
The main purpose of any CRM software is to manage customer relations and to ease up the process of a business. In the case of a newly opened start-up, it is very crucial for the business that the various processes in different
aspects are automated, and hence selecting the right CRM software is very significant for Startups. The top 5 CRM software for Startups are mentioned as follows.
1. Zoho CRM
Zoho Corporation was founded in the year 1996, since then, the company has launched various software products and tools that are useful for businesses. One of the reasons why Zoho CRM is on the top of the list is because it provides software products that are easy to use and hassle-free. Hence, the software becomes very reliable for Startups.
Pros
Using Zoho CRM is very easy. Even a newbie can easily configure and create a customized template through Zoho CRM.
With an entire range of software products and tools available at hand, it becomes very easy for start-ups to select the right tools as per their requirement.
Cons
The Helpline system of Zoho CRM still takes a lot of time to respond and solve the issue, this can be a hindrance for Startups.
Conclusion
With their basic plan starting as low as 800 INR, the software offers a wide range of tools, and hence it is very feasible for Startups.
2. Insightly CRM
Insightly is one of the few CRM software that has its entire focus on customer relationships and networking. This is one of the reasons why many Startups opt for Insightly as it helps them to promote their newly established business with ease as compared to most of the CRM software. One of its noteworthy features is its lead management tool.
Pros
It offers a variety of project management tools that is very helpful for Startups for managing post-sale
customer relations and creating a good impact.
 It is very easy to customize the platform and it also integrates very easily with third-party applications.
Cons
To have advanced support and a few of the other features, you will have to bear some additional costs, which is not commendable.
They can do well for customer support.
Conclusion
With their free plan limited to just two users, Insightly can be a good choice for Startups.
3. Salesflare
There is many CRM software available in the market, but if you are looking for a CRM that updates and fills out itself, then Salesflare is your answer. For Startups to keep a track of all the upcoming updates for a CRM software is a
difficult job and hence Salesflare is the ideal option for the same.
Pros
Salesflare is one of the few CRM software where you receive a good customer support from the concerned staff.
It offers features such as Email automation and sequences, this helps to trigger emails or sequences manually, which works in favour of Startups.
Cons
Although the CRM software is beneficial for Startups and small businesses, it becomes complex if your business is on a large scale.
The navigation of the software could do better, sometimes it could be confusing for new users.
Conclusion
Once you are accustomed with the working of the platform, it is one of the most useful CRM software for start-ups.
Also read :
4. Agile CRM
Looking for a CRM software with a built-in phone feature? Agile CRM should be on top of your list. For many users, it becomes a drag to watch out for the phone built-in feature and hence Agile CRM is very useful in this regard, it
also provides inbound and outbound calling.
Pros
There is very few CRM software that has a reliable project management tool and Agile CRM is one of them.
All the reporting aspects of the software are very efficient and
provides accurate data.
Cons
The interface that is being provided by the software is difficult for newbies and hence may not suit well for
start-ups.
The various features that are provided by the software in the basic package are less than what it should offer as compared to the other CRM software.
Conclusion
Although Agile CRM does not come on the top of the list, small-scale start-ups can definitely try this software.
5. Zendesk
From what started as a customer service tool, Zendesk has now evolved into one of the fastest growing CRM software that competes with several well-known CRM software in the market. It provides various tools that assist a start-up with sales, marketing, and lead generation.
Pros
To have an advanced user experience, some even go for metric tracking and Zendesk provides that feature for its users.
It helps with autofill information feature that helps a user to save a
lot of time and effort.
Cons
There is no 2-way sync integration. Zendesk software only provides 1 way syncing which can be troublesome.
There are no pre-defined templates, you need to create everything from scratch and that can be a disadvantage for Startups.
Conclusion
If you avoid a few of the anomalies of the software, it can be a good CRM software option for a Start-up.
 Yes, it helps you to automate most of the processes. Furthermore, many CRM software offers free plans.
CRM software such as Zoho, Salesflare, HubSpot, etc, are few of the widely used software for Start-ups.
A user should watch out for the navigation features of a software.
Subscribe To Our Newsletter
Get updates and learn from the best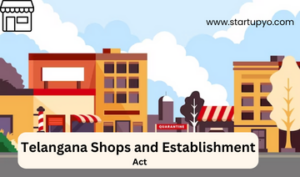 Legal & Compliance
Telangana Shops and Establishment Act Overview The Telangana Shops and Establishment Act 1988 was introduced for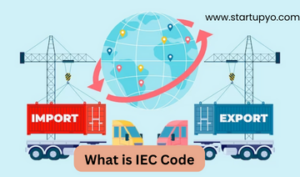 Legal & Compliance
IEC Code Overview International trade is now easier to reach than ever in today's linked