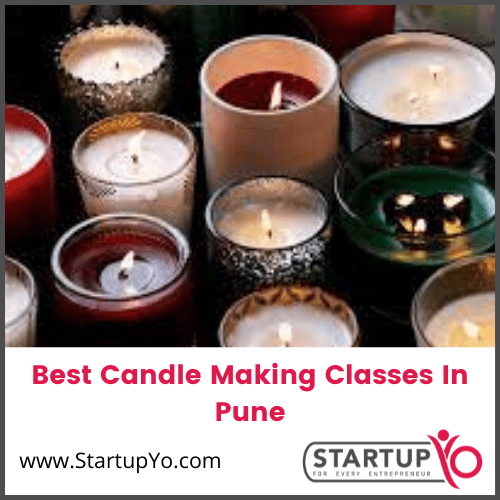 Best Candle Making Classes in Pune 
Making a variety of Candles has been a venture that many have taken up to earn a percentage of money in an easy manner. However, Candle making can only be learned by taking up Candle making courses through classes that are near you. For the city of Pune, there are various Candle making classes and training centres that can assist you in knowing the basics of how to make Candle and even its types if need be.
What is Candle Making classes?
This is a question that usually arises, is there a training class for learning how to make Candles as well? The answer is yes, you can find various classes that would provide you with online and offline classes for learning various types of items. There are many Candle making classes in Pune where you can learn and shape your skills for Candle making business or any such passion.
Best Candle Making Classes in Pune
The ideal search that one clicks on is 'Best Candle making classes near me'. If you are a resident of Pune, you may have even heard of various classes and institutes that teach courses with regard to Candle-making. However, choosing the right type of classes or training centres is a difficult choice. Should you choose a training centre that provides professional courses? Or a coaching class where you learn just the basics of Candle-making?
The best Candle making classes in Pune are mentioned as follows.
1.Knowbbies
Just how unique the name is, so are their courses and teachings that they provide to individuals who wish to learn Candle making courses. They also excel in teaching about cakes, muffins, art, Punjabi, and so on. If you are looking
forward to learn multiple courses under a single roof, then Knowbbies is the best option for one of the best Candle making training courses in Pune.
Website: www.knowbbies.com
Address: 205 Decision Tower, Satara Road, Satara Rd, next to Ideas Associates, Pune, Maharashtra 411037
2. Cooking and Art Studio by Harsha
Another classes to watch out for in Pune for Candle making courses is Cooking and Art Studio by Harsha. They excel more in teaching courses related to cooking and art; however, they are also known for Candle making courses. This can be on your list of consideration.
Contact: 7038019854
Address: Lake Town Housing Society, Bibwewadi, Pune, Maharashtra 411037.
3. Pearl'z  Hobby  Classes
Pearlz Hobby classes is another name that is known in Pune for teaching a range of professional course. Although they are more focused in teaching courses for hobbies, you also get a feeling of professionalism while learning in their environment.
Address: Shop no 1, premlokplaza, Alandi Rd, Kalas, Pune, Maharashtra 411016.
4. Kothrud
As unique the name sounds so are the courses that Kothrud provides when it comes to Candle Making. They teach different types and colours of Candles to individuals. They also have various feedbacks and reviews from customers. it can be in your list of consideration.
Contact: 9823440354
Address: 85/1 Flat No. C-204, Vanaz co. op. hsg. society,, Paud Road, Kothrud, Pune, Maharashtra 411038
Subscribe To Our Newsletter
Get updates and learn from the best