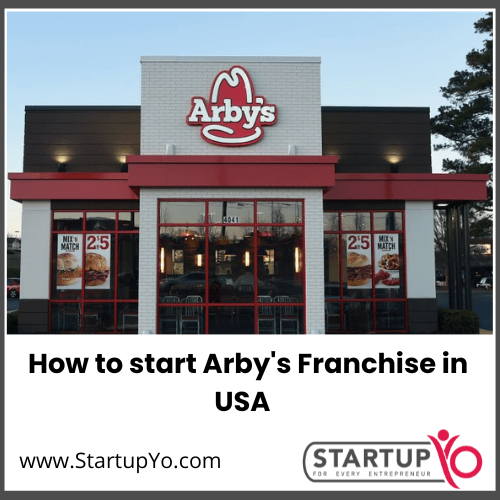 How to start Arby's Franchise in USA
Complete guide to start Arby's Franchise in USA
Over view
Arby's is the second-largest fast food and sandwich chain serving from the past 45 years in the United States. This quick-service sandwich restaurant has a history of doing things differently and in a better way. With years of experience they have the capability to create unforgettable sandwiches for every best moment, occasion, and carving. With its quick-service of tasty, affordable, and satisfying meals they have established themselves as the sandwich kings.
In 1964, this top fast-food brand was founded by Forrest and Leroy Raffel with a concept to serve more than just burgers. They gave up the idea of calling their business "Big Tex" and continued with Akron Business which was later renamed as Arby's Restaurant Group. They started franchising in 1965 and have acquired third position in terms of revenue. With its classic menu it has maintained a position of most famous and loved restaurants in America. They took the ownership of Buffalo wild wings in 2018. This longest chain in sandwich pie has more than 3400 restaurants in 8 countries. Its headquarters is located in Sandy Springs, Georgia.
Arby's Franchise Benefits
Arby's Franchise provides a variety of benefits like its Restaurant Planning, Broad menu selection, Eye-catching design & construction, Multiple outlets models, uplifting company culture, Operational Training, Marketing & Branding, and other support to help you Succeed.
Restaurant Planning: its Restaurant Planning is very much developed, they have made their planning module in such a manner that it eventually leads to the development of restaurants.
Broad menu selection: its menu offers such selection that others do not offer, and because of this it attracts many customers towards its industry.
Eye-catching design & construction: its unique pinnacle design makes it stand out from other buildings. Its building structure is contemporary, prominent and has a unique feature of easily adapting changes according to new trends and changing circumstances.
Multiple outlets models: its traditional and non-traditional site model helps to choose according to investment range.
Uplifting company culture: its company culture helps in the success of their business owners.
Operational training: they provide 336 hours of On-The-Job training and additional training as well.
Marketing and Branding: its Marketing and Branding support is best. They offer great marketing strategies like Co-op advertising, National Media, social media, website development, Ad templates, regional advertising, email marketing.
Other ongoing benefits are Purchasing co-ops, meeting & conversions, grand opening, security & safety, online support, site selection and much more.
Arby's Franchise Requirements:
For Arby's Franchise you need to have minimum liquid capital of $500,00 and net worth of over $1,000,000. It requires ongoing fees like royalty, marketing fee, and  local marketing.
| | |
| --- | --- |
| Initial Franchise Fee  | $6,250 – $50,000 |
| Initial investment  | $628,950 – $2,306,000 |
| Net Worth Requirement  | $1,000,000 |
| Cash required  | $500,000 |
| Royalty  | 4.0% |
| Marketing Fee | 4.2% |
| Local Marketing Fee | 2.3% |
Arby's Franchise Opportunity
Arby's is one among few top restaurants that has National brand presence and can grow in almost every marketing sector. They have the flexibility to adapt in almost any prime commercial site. They are running a proud system of over 3,700 locations and are expanding their restaurants with its full speed. At present 1.46 million people are engaged with this industry and it is Estimated that by 2027 Arby's will create 1.6 million more jobs in the U.S.A. 
Once you are in Arby's family you will enjoy unlimited opportunities like prime restaurant sites, open development markets, innovative product lines, open development markets, brand culture and much more. They have such a list of unique opportunities that will help you to emerge successfully.
Arby's Franchise Cost
In order to open the doors of Arby's Franchise you need an investment of $637,950 to $2,306,000. This investment includes total development & license fees or training, total site and Real estate, total building charges, and total pre-opening deposits. 
Initial Investment 
Type of Expenditure 

Free- Standing leased amount 

Development Fee

 

License Fee

 

Fees and Expenses during training 

$6,250 – $12,500

 

$0 – $37,500

 

$5,000 – $23,400

Total Development & License Fees/Training

 

$11,250 – $73,400

Real property/ occupancy Charge

 

Site costs

 

Landscaping

Variable/Footnote

 

$0 – $451,000

 

$0 – $63,000

Total site and Real Estate

(excluding purchase/lease)

$0 – $514,000

Civil & Architectural Drawing/Professional Fees

 

Zoning/Permitting costs

 

Building Costs

 

Equipment

 

Computer hardware & software/POS

 

Decor package

 

Signage & Drive Thru

$40,000 – $219,000

$1,000 – $112,000

 

$234,000 – $731,000

 

$183,000 – $262,000

 

$32,000 – $55,000

 

$11,000 – $45,000

 

$44,000 – $88,000

Total Building/Construction/Equipment

 

$545,000 – $1,512,000

Pre- opening wages 

 

Opening inventory

 

Insurance

 

Working capital/Additional funds

 

Lease deposits & payment

 

Business Licenses, health permits, utilities deposits 

$21,300 – $41,200

 

$18,000 – $26,000

 

$8,400-$14,400

 

$33,000 – $100,000

 

Variable/Footnote

 

$1,000 – $25,000

Total pre-opening /operating deposits

 

$81,700 – $206,600

Total Estimated Initial investment (excluding purchase/lease)

$637,950 – $2,306,000
Arby's Franchise Profit
As it's one of the top food brands they draw gross revenue of over $3.9 billion each year across its total stores. Arby's has kept its financial statistics online confidential, if we roughly estimate its business owners likely make $100,000 – $150,000 annually. 
For franchisors it is a very profitable business with retained earnings of $166.61 million in 2022. When we compare its retained earnings with 2020, then we can witness an increase of 21.16% indicating high growth as a company overall. 
Revenues:
 

Franchise Fees and royalty revenues 

 

Franchise Fee and royalty revenues from affiliates 

 

Other revenues 

$111,362

 

82,427

 

2,977

Total revenues

 

196,766
Costs & expenses:
 

Management fee to Affiliate

 

General & administrative

 

Amortization

 

Total costs & expenses

 

Opening income

 

Other (income) expense, net

29,824

 

(55)

 

435

 

30,204

 

166,562

 

(49)

Net income

 

166,611

Other comprehensive income (loss):

 

Foreign currency translation adjustment

(1)

Comprehensive income 

$166,610
Arby's Franchise Locations
At present there are more than 3,417 locations of Arby's in the world, 2,100 locations in the U.S. 
Ohio owns 278 locations of Arby's for every 42,047 people, which is about 8%.
Michigan owns 178 locations of Arby's for every 56,107 people, which is about 5%.
Indiana owns 178 locations of Arby's for every 37,820 people, which is about 5%.
As per December 2022 reports Arby's have 56 in Canada. 
Ontario owns 29 Arby's stores for every 498,172 people which is about 51% of the total number of Stores in Canada.
Alberta owns 14 stores for every 310,429 people which is about 25%.
British Columbia owns 6 stores for every 836,667 people.
Apart from the USA and Canada they have locations in Mexico, Turkey, Egypt, South Korea, and Yemen.
Arby's Franchise Application
If you are interested in Arby's Franchise and want to own a store too then you need to complete following steps: 
Complete its Franchise application so they can provide a background check, financial inquiry, and credit clearance.
Meeting: its franchising and operations leadership will approach you in order to discuss your experience and management structure.
Review locations: you will be provided with territories and sites that will be available for your restaurants. 
Development Agreement: you need to sign a development agreement at the time of final approvals.
New Arby's Restaurants: after signing and clearing payment and fees, its team will build new Arby's Restaurants for you. 
You can also visit https://arbysfranchising.com  
Conclusion
At present 1.46 million people are employed in this industry and it is estimated that by 2027 Arby's will create 1.6 million more jobs in the U.S.A. Their motto is, " Inspiring Smiles Through Delightful Experience" so they are always in search of owners who will delight customers with their experience. Franchisees who work with this famous brand get unparalleled marketing, franchising, and operational support. They have currently opportunities to grow in every market and are offering prototype & investment levels options for business needs. 
If you are thinking about Arby's Franchise then you need to check out its Franchise requirements & ongoing fees. The brand has outshined even during the pandemic period revealing its acceptance in the industry. Hope this information will be useful for you, if you are interested in Arby's Franchise. Decide as per your preference and get started in this Food and Beverage Industry.
Frequently Asked Questions(FAQ's)