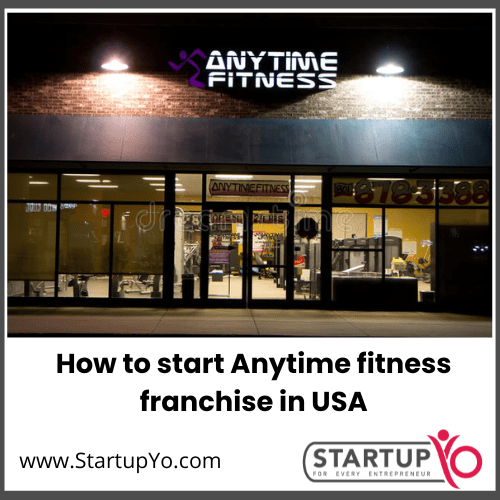 How to start Anytime Fitness Franchise in USA
Complete guide to start Anytime Fitness Franchise in USA
Overview
Anytime Fitness is a privately held American health and fitness chain that says "fitness at anytime". This fourth largest fitness brand in the United States operates 24/7, even during unstaffed hours thanks to its high profile security system. In exchange for a free membership, Anytime Fitness offers access to one-on-one, small, and large group training. It's the world's most convenient gym that allows people to achieve their life-long goals. In the United States, the brand has over 2,300 locations, and 4,000 footprints worldwide in over 50 countries. 
Anytime Fitness offers two types of fitness centers, Regular Anytime Fitness Centers and Anytime Fitness Express Centers. 
Regular Anytime Fitness Centers are typically between 4,000 and 6,000 square feet.
Anytime Fitness Express Centers are located in towns between 1,500 and 4,000 square feet. 
The story of "Anytime Fitness Franchise" started in 2002 and in the same year it began franchising. The credit of this fitness chain goes to Chuck Runyon, Dave Mortenson and Jeff Klinger, this fitness concept grew at such a pace that by 2005, the United States and Canada had this health and fitness chain in 77 locations. Anytime Fitness is the first fitness wing that granted a franchising license in China. In 2015, Anytime Fitness was ranked first by Entrepreneur Magazine on its global franchise list. Apart from its locations it has a huge fan following list of 4 million members. Runyon is the CEO of the company and its headquarters is located in Woodbury, Minnesota. 
Anytime Fitness Franchise Benefits
Like every other franchise, Anytime Fitness Franchise comes up with a number of benefits. They benefit your business in many ways, they always strive to make their locations successful. Anytime Fitness provides startup support as well as ongoing support, National Branding and Marketing Support. Their franchise family support never stops, Anytime Fitness franchise coaches and its staff keep working on new ways and new ideas to support you. 
In their

startup support

module

they are providing benefits like site selection, lease negotiation, financing, club layout and design and comprehensive training. 
In their

Ongoing Support

module they are providing Online operations manual, advanced training as well as regional level training sessions. They also benefit with On visits, conference calls, webinars and online tools.
Their

National Branding and Marketing Support

module is full of TV spots and radio ads facilities, direct mail and digital advertising, they also provide marketing collateral support.
Anytime Fitness Franchise Requirements
Here are the requirements that you need to keep in consideration before opening a Anytime Fitness Franchise. If you are interested then you need to settle the initial investment of $381,575 – $783,897, a Net worth of $350,000, and other necessary investments and fees. 
| | |
| --- | --- |
| Initial Franchise Fee | $42,500 |
| Initial Investment  | $381,575 – $783,897 |
| Net Worth Requirement | $350,000 |
| Cash Requirement  | $175,000 |
| Veteran Incentives  | $2,500 – $7,500 off franchise fee  |
| Royalty Fee  | $699/mo. |
| Ad Royalty Fee | $600/mo. |
| Term of Agreement  | 5 years  |
Anytime Fitness Franchise Opportunities
With over 17 years of experience, The Anytime Fitness Franchise has provided thousands of owners with the best opportunity that will fit their personality and profession. From new to experienced owners, standard location to fitness Express location, every franchise owner has experienced Anytime Fitness Franchise opportunity. 
Anytime Fitness offers

Low Cost Investment

, with very affordable franchise and monthly fees. 
They come up with

Simple Process

, a step by step guide in helping you to  become a healthy and fitness chain. 
They provide

360 support

, by staying by your side throughout life. 
They have

Top-Ranking

and are working in building a world class business.
Anytime Fitness Franchise Cost
In order to run a Anytime Fitness Franchise, the estimated cost varies for Standard Location and Fitness Express Location.
The estimated operation of Anytime Fitness Franchise ranges for 
Standard location: $381,575 – $783,897
Fitness Express Location: $290,746 – $584,441 
Estimated Initial Cost (Standard Location) 
| | | |
| --- | --- | --- |
| Type of Expenditure  | Amount – Fitness Low | Amount – Fitness High  |
| Initial Franchise/ Development Fee | $42,500 | $42,500 |
| Travel & Training Expenses  | $3,000 | $3,500 |
| Deposit & Leasehold improvements  | $7,871 | $371,142 |
| 3 months rent | $23,614 | $28,116 |
| Architect/ Design Fees  | $6,000 | $16,080 |
| Fitness Equipment  | $153,010 | $153,010 |
| Technology Equipment Package  | $34,805 | $36,224 |
| Supplies  | $3,575 | $3,575 |
| Interior & Exterior Signs | $24,000 | $26,000 |
| Miscellaneous Opening Costs  | $10,000 | $11,000 |
| Pre-Sale / Grand Opening Advertising  | $11,000 | $23,000 |
| Insurance/ Bond | $2,900 | $3,450 |
| Furniture & Fixtures | $13,000 | $15,300 |
| Additional Funds -3 months  | $46,300 | $51,000 |
| Total  | $381,575 | $783,897 |
Anytime Fitness Franchise Profit
As per Anytime Fitness reports, they make an average revenue of 
$384,958 annually, across 1,103 centers till December 2021.
$246,246 annually, across 156 centers till December 2021.
Revenue of three main streams:
Membership Revenue, Personal Training Revenue, and Pay-Per-Visit Revenue.
Types of revenue

Average of All

1,103 centers

Average of All

156 centers 

Membership Revenue 

$291,130

$204,848

Personal Training Revenue 

$76,406

$31,135

Pay-Per-Visit Revenue 

$17,422

$10,264

Total Revenue

 

$384,958
$246,246
Anytime Fitness Franchise Reviews
Anytime Fitness has a rating of 3.8 stars out of 5 stars, indicating the satisfaction chain of health and fitness. Over 4,174,096 reviews on their website are verified. Reading them all explains their quality and helpfulness. Franchisees are mostly satisfied with Anytime Fitness, we can see many successful stories of Anytime Fitness franchisees. They appreciate the franchise system, and the ways of choosing the right location. The time and location flexibility has also been very effective for them. 
Franchisees are very thankful for the support that Anytime Fitness provides through uncertain times. The continuity of trade and cash flow has also been impressive. As in COVID businesses struggled, Anytime Fitness came up with the option of improving our health, different guidelines, and training franchisees in dealing with pandemics. They provide help in equipment , benefits in pricing and services. In total we can see healthy feedback from the franchisees of Anytime Fitness. 
Anytime Fitness Franchise Application
The application process of Anytime Fitness Franchise is online based. To apply you need to go through a simple form asking for your basic details.
In order to setup a location you need to go through the following process:
You need to

share your story,

let them know about your interests and information about the brand.
After this they will set up a

meeting or Gym visit

. In this step you can explore the facilities, understand the brand.
Next comes the

Territory & Due Diligence

. They will help you in choosing the right location and you can share financial plans in this step.
In the fourth step they will arrange a

Team Meeting

, where you will learn about how they will support you throughout the journey. 
In this step they will finalize

Location & Agreements

.
At last you will come across the

Training & Getting Started

mode. They will help you with foundational training and roadmap to start your Anytime Fitness Centre.
For more details visit their Official Website: http://www.anytimefitness.com
Conclusion
Anytime Fitness Franchise provides opportunities for new talent and are always looking for interested candidates in order to take the goal of fitness ahead. Their way of dealing with pandemic was exceptional, the support they provided and remaining updated with its franchisees, motivates people to invest in their business. It's a one time offer for you ,so choose in the best way possible. Its Locations are consistently growing and satisfying the fitness freaks. Its 24 hours time flexibility is driving more and more people to join its free membership. 
Anytime Fitness Franchise is accessible by clearing initial investment and costs before setting up. Its net profit is growing continuously and its Franchise model ensures the success of every location. They have a strong annual returns and are giving tough competition to their competitors. In this era of changing landscape Anytime Fitness Franchise is giving fitness and health goals across the globe. Therefore starting with Anytime Fitness Franchise in the USA is a big commitment, be dedicated and give every effort to make your business profitable and worth investing in.
Frequently Asked Questions(FAQ's)